The Recipe for Success Lies in the Power of Partnerships
Image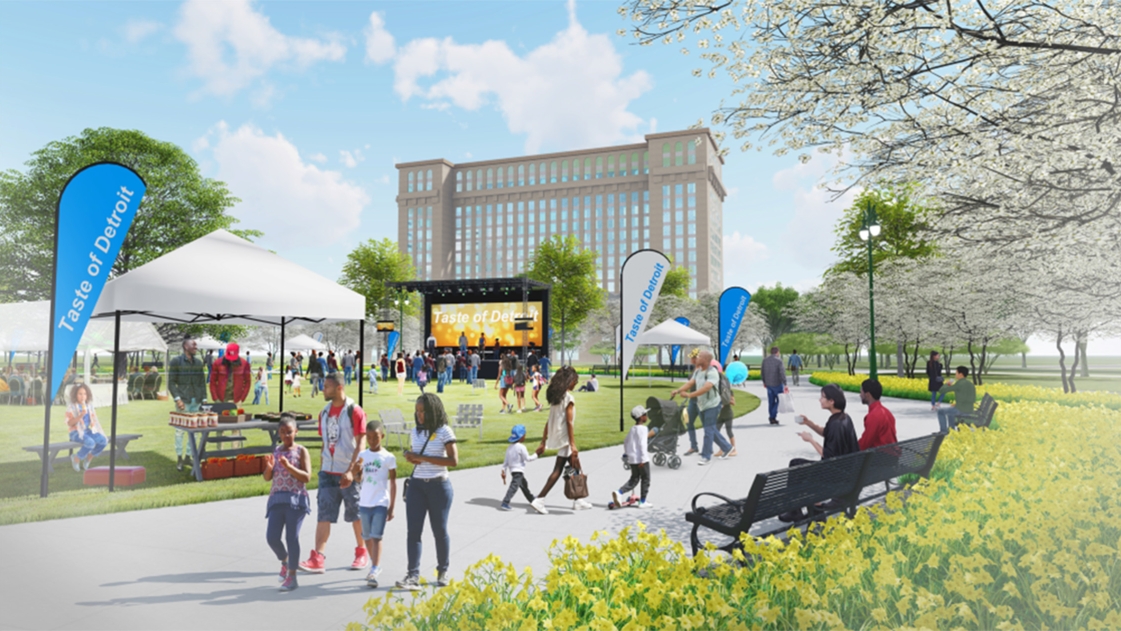 The secret sauce: Collaboration, communication and community
In the summer of 2022, the City of Detroit broke ground on a project to unify Roosevelt Park. This $6 million revitalization project includes the removal of a roadway that split the park and divided two neighborhoods.
Located adjacent to the Michigan Central Station, the park was formerly used to connect commuters and travelers to their homes and families. The station and sprawling park were constructed between 1908 and 1918 as part of Detroit's City Beautiful Movement—a powerful urban renewal effort to restore the dominance of city buildings and landscapes.
"The park has always been oriented to the train station and served as a means to get from point A to point B," says Chris Riggert, landscape architect and project manager with OHM Advisors. "It was meant to be a pass-thru park and not a place to spend time in."
The neighborhood in and around the park—known as Corktown—emerged as a working-class area of Detroit and was populated by second-generation immigrants representing a mixture of Irish, European and African American descent. Over time, a property struggle developed between residents and the city as the parties advocated differing ideas about how to use the park space effectively.
Ultimately, the park and the train station went unused, and the area became associated with the "decay" of the city.
That is, until 2022 when Roosevelt Park became a vision and then ultimately a reality. The Greater Corktown Framework Plan, initiated in 2019, recommended a single unified park space.
A project's power lies in partnerships
To achieve a cohesive vision for the park, the City of Detroit partnered with the community and several public and private partners: Ford Motor Company, Michigan Central, Woods and Watts, and OHM Advisors.
It was essential to all partners and project stakeholders to gain community feedback and support at the onset. To do so, Woods and Watts assisted the City in organizing a community festival in the park's former roadway, complete with food trucks, bands, and vendors. And when they shut Vernor Highway down for this festival, the street was not reopened.
This festival set the tone for the importance of community engagement and project partnerships to get the park to where it needed to be. Community engagement meetings were also hosted in November 2021 and January 2022 to involve neighbors and key community groups to help advance the planning and design process.
The project team listened to and worked with community members and neighborhood residents, who had real input into shaping this renewed park in ways that benefit them, i.e., providing a "place" to go to for events, walks, friend and family gatherings and more—a natural and solid, safe place to gather or to read a book on a lunch break.
"Our collective team came to the table with advancing this community in mind," says Patrick Droze, firm principal and project manager with OHM Advisors. "This park is intended for the community, and there are too many good people and partners on this project for it not to reach that goal."
"We want to celebrate the collaboration that went into this project," echoes Riggert. "It was all about building a team of people representative of different perspectives, skill sets and disciplines."
Riggert adds that how a team is built and formed is crucial to a project's approach. "It's more than just one business, professional or public representative; it's about surrounding ourselves with the right people and partnerships – and keeping the community the core focus."
It's more than just one business, professional or public representative; it's about surrounding ourselves with the right people and partnerships."

- Chris Riggert, OHM Advisors
Roosevelt Park design
"This was not a typical design process," says Riggert. "This was a Venn Diagram of connecting the park and the train station's legacy to bringing neighborhoods and communities together. It's designed to be accessible."
Pedestrian use became a significant objective for the project, re-envisioning this as one park rather than two parks separated by the former roadway. Accessibility via walking paths and bike infrastructure was another goal.
"We wanted to use design language to create meaningful and comfortable spaces. That was something we heard from the community. We even worked with the city's fabricators to design benches, tables and chairs," says Riggert.
The project had to move quickly. With an expedited timeline for OHM Advisors to develop the design strategy, collaboration and insight from all project partners were vital.
"It's not just about what the project can bring to the community, but about balancing its history, and balancing that history with the present and the future," says Droze."
"We had to be thoughtful about how the park may be remembered and perceived, and then resurrect this park as a location for collaboration and community enjoyment."
Riggert and Droze agree that Roosevelt Park is a springboard for a new era in Detroit. While there will be future phases of the park's renovation, it is the hope of OHM Advisors that while the park's history represented a divide, the present and future uses of Roosevelt Park represent collaboration and unity around advancing this community in a safe, interconnected and exciting way.
Let's talk about today
In June 2023, the new park—located in front of the historic Michigan Central Train Depot at 2001 15th Street—opened as an expanded 13-acre area (about half the area of Chicago's Millennium Park). Vernor Highway, which formerly bisected the park, has been rerouted around the park, creating a safer, more accessible, and public-friendly public space.
The transformed park serves as an amenity not only for neighborhood residents but also for the many new workers who will be employed within the Michigan Central campus. Roosevelt Park now includes a promenade connecting Michigan Avenue to The Station, a new pedestrian gateway entrance at Michigan Avenue, key neighborhood entryways and walkways, plaza spaces, event lawns, benches, tables, and landscaping.
OHM Advisors' experts and all project partners are excited about Roosevelt Park's potential to improve and strengthen community connections and partnerships in a beautiful outdoor setting.
Roosevelt Park now serves as a source of pride for Detroit and a beacon of hope for the future of the entire Michigan Central Depot area.
After all, wherever there is hope, there is possibility, and effective collaboration and partnerships can bring it all together.
Want to learn more about this remarkable project? Contact our visionary Planning experts today. 
To hear more about the rebirth of Roosevelt Park, listen to the Daily Detroit's August 8th podcast episode with Patrick Droze and OHM Advisors President Jon Kramer.