And the awards go to . . . community advancement!
Image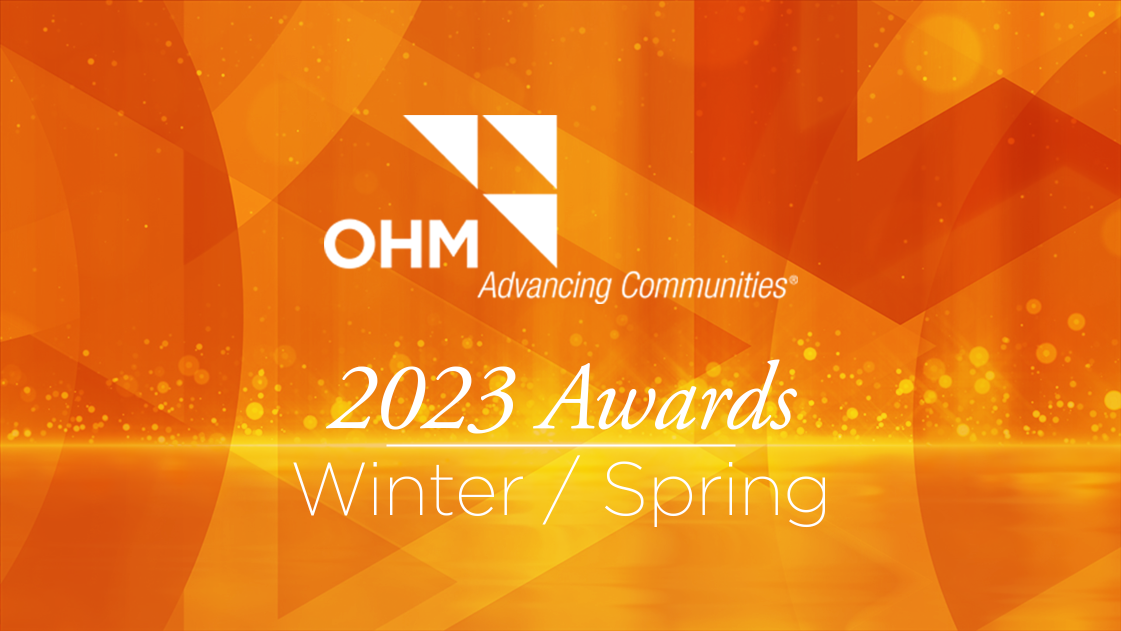 Here, we highlight five recent awards to share how vision becomes a reality:
At OHM Advisors, we work hard to advance the communities we serve. We care about creating and enhancing the spaces, places and areas that initially live as a vision in our clients' minds and working together with them—and our partners—to bring that vision to life. Along the way, we're awarded accolades recognizing the impacts of our work, and we're proud to share this recognition.
---
---
Wesley Chapel Cemetery Expansion (Honor Award)
Client: Norwich Township
Location: Norwich Township, Ohio
Expertise: Landscape Architecture and Urban Design
Awarded by: American Society of Landscape Architects, Ohio Chapter
Wesley Chapel Cemetery is one of Ohio's most prominent cemeteries and a source of community pride. Since 1818, the cemetery has provided solace for those seeking to remember their loved ones. With the hope of expanding the grounds to include four acres of adjacent land deemed unfavorable for building, Norwich Township enlisted OHM Advisors to repurpose the long-unused and challenging site. 
Bringing the vision to life: We heard the term "unfavorable" and saw an opportunity to push traditional cemetery design boundaries in a sensitive manner. The design complements current and natural environmental features, provides more privacy for visitors, and incorporates green infrastructure components.
"Using the undeveloped land next to the cemetery, we erected standalone memorials, scattering, lush gardens and nontraditional cinerary columbaria in a park-like setting. The expansion allows community members to remember their loved ones in an enhanced and even more serene environment."

- Mark Bockrath, Director of Planning & Urban Design
To learn more, contact project manager JOSH HELMS.
---
Ashland Foundation Plaza (Best Placemaking Award, Main Street category)
Client: The City of Ashland
Location: Ashland, Ohio
Expertise: Landscape Architecture and Urban Design
Awarded by: Heritage Ohio
In 2017, Ashland Mayor Matt Miller had a vision for a redefined downtown dubbed the Targeted Action Plan. The plan would encompass a four-step program to help the city improve, with the Main Street Plaza as a central focus.
Bringing the vision to life: Today, Foundation Plaza is a place for community members to visit and enjoy concerts, festivals, and more. What was once gravel and cement is now a space for community to come together. To see photos of the debut of "Music on Main" at Foundation Plaza, click here. 
"The overarching purpose of this project was for community members and visitors to enjoy the plaza in a comfortable, safe and inclusionary setting. The park needed to be enjoyed by any age or demographic."
- Aaron Domini, Principal, Planning
To learn more, contact principal AARON DOMINI. 
---
Tahquamenon Falls State Park Lower Falls Enrichment (Engineering Honorable Conceptor Award, Structural category)
Client: Michigan Department of Natural Resources, Parks and Recreation Division
Location: Paradise, Michigan
Expertise: Design, Construction Administration 
Awarded by: American Council of Engineering Companies, Michigan Chapter
Located in Michigan's Upper Peninsula, Tahquamenon Falls is the state's largest waterfall. This 48,000-acre park boasts 13 inland lakes, 24 miles of the Tahquamenon River, and over 35 miles of hiking trails. The park attracts more than 500,000 visitors annually. Yet, before 2022, the park's island—including Lower Falls—was inaccessible without a rowboat or wading through the rushing river. 
Bringing the vision to life: New ADA-compliant boardwalks, pathways, and the Ronald A. Olson Island Bridge transformed the visitor experience in this remote environment—turning what was not reachable into reachable and accessible.
"OHM Advisors was able to effectively bring our agency's vision to reality in a unique way that will reshape the public experience and families' memories at the Tahquamenon Falls State Park Lower Falls site for decades to come."
- Keith Cheli, Landscape Architect, MDNR Parks and Recreation Division
Watch a video of the park's transformation:

To learn more, contact project manager Zane Hyrkas.
---
Vision for the Valley (Honor Award, Planning/Studies category)
Client: City of Cleveland
Location: Cleveland, Ohio
Expertise: Planning
Awarded by: American Council of Engineering Companies, Ohio Chapter
Vision for the Valley was born from the recognized need for a unified vision to guide growth and decision making. The City of Cleveland, Cleveland Metroparks, the Port of Cleveland, Flats Forward, and the Northeast Ohio Areawide Coordinating Agency (NOACA) partnered with OHM Advisors and our consultant team to develop a cohesive plan that balances both river- and land-based uses and outlines a vision for sustainable, future growth.
Bringing the vision to life: The Cuyahoga River has attracted people seeking business, entertainment, recreation, and residency. Vision for the Valley was challenged with crafting One River for all, creating One Vision for all parties to rally behind and through support and cooperation, and building One Cleveland–with a healthier, more equitable, and more sustainable future.
"To foster alignment among the various partners and collaboration among the many consultants, the group—led by OHM Advisors—was branded 'One Team,' illustrating a connected team and a unified vision to create an even more vibrant and engaging entertainment area for Cleveland residents and visitors."
- Jim Haviland, Executive Director, Flats Forward
To learn more, contact project manager Arthur Schmidt
---
Avon/Dequindre Road Bridge and Roundabout (Project of the Year Award)
Client: Road Commission for Oakland County
Location: Rochester Hills, Michigan
Expertise: Surveying, Engineering, Landscape Architecture
Awarded by: American Public Works Association, Michigan Chapter
This project was all about partnerships – an excellent example of public agencies working with private-sector firms to bring about the best long-term outcome for commuters, residents, and visitors to the area. The Avon/Dequindre Road Bridge and Roundabout Project created harmony between the natural environment, the movement of people, and a recreational gathering area.
Bringing the vision to life: We worked alongside our Road Commission for Oakland County and Great Lakes Water Authority partners on this two-year project that involved the installation of a 96-inch Great Lakes Water Authority water transmission main, removing and replacing a bridge, upgrades, and the construction of not one but two roundabouts.
"We are always grateful for the recognition we earn because everything we do is grounded in our mission to help communities solve problems and make places better for people. Not just today, but well into the future."
- David Conn, Project Manager, OHM Advisors
To learn more, contact principal John Katers.
Return to Top of Page