Image

Image
Image

Image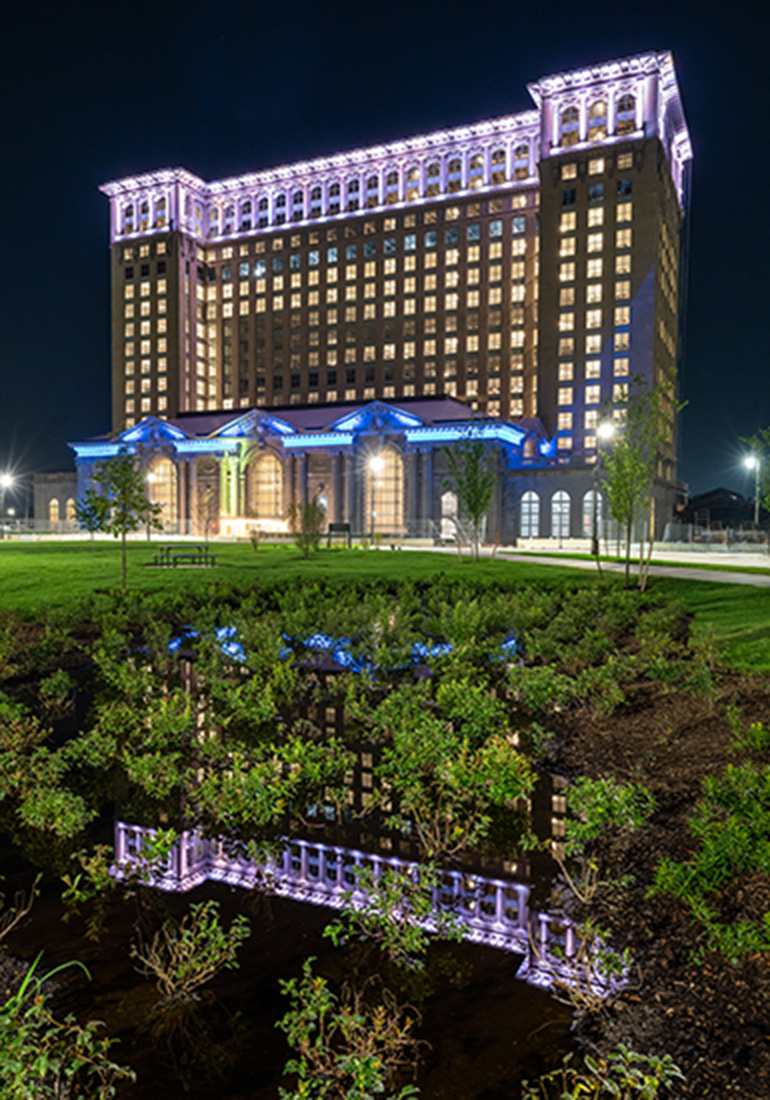 Image

Image

City of Detroit - Roosevelt Park
Client
City of Detroit General Services Department
Roosevelt Park brings southwest Detroit community together through collaboration
In the summer of 2022, the City of Detroit broke ground on a project to unify Roosevelt Park. Located adjacent to the Michigan Central Station (The Station), the park was formerly used to connect commuters and travelers from around the world to their homes and families. This $6 million revitalization project includes the removal of a roadway that split the park and divided two neighborhoods.
In the decades after the train station opened, the Corktown neighborhood in and around the park emerged as a working-class area of Detroit populated by second-generation immigrants. Over time, a property struggle developed between residents and the city over how to use the park space effectively. Ultimately, the park and the train station went unused, and the area became associated with the "decay" of the city.
That is, until the Greater Corktown Framework Plan—initiated in 2019—recommended a single unified park space.
Today, this unified vision has become a reality. 
In June 2023, the new park—located in front of the historic Michigan Central Station at 2001 15th Street—opened as an expanded 13-acre area (about half the area of Chicago's Millennium Park). 
To achieve a cohesive vision for the park, the City of Detroit partnered with the community and several public and private partners: Ford Motor Company, Michigan Central, Woods and Watts, and OHM Advisors.
These partners came to the table with advancing this community in mind. It was essential for all partners and project stakeholders to gain community feedback and support at the onset. Our multidisciplinary team contributed to multiple public engagement meetings with the community and project stakeholders, and designed a transformed park that prioritized pedestrian use, a significant objective for the project. Accessibility via walking paths and bike infrastructure was another goal.
The project team listened to and worked with community members and neighborhood residents, who had input into shaping this renewed park in ways that benefit them, i.e., providing a "place" to go to for events, walks, friend and family gatherings and more—a natural and safe place to gather or to read a book on a lunch break.
The transformed park serves as an amenity for several Detroit neighborhoods and the many workers who will be employed within Ford Motor Company's Michigan Central campus. Roosevelt Park now includes a promenade connecting Michigan Avenue to The Station, a new pedestrian gateway entrance at Michigan Avenue, key neighborhood entryways and walkways, plaza spaces, event lawns, benches, tables, and landscaping.
OHM Advisors' design process worked over an unprecedented fast-paced period taking community input to construction-level bidding documents within three months. The process included workshops, meetings, and modeling exercises to ensure the final park design met the community's and the City of Detroit General Services Department's visions. Final design was ultimately met with consistent praise from the community.