And the kudos go to . . . OHMers advancing communities!
Image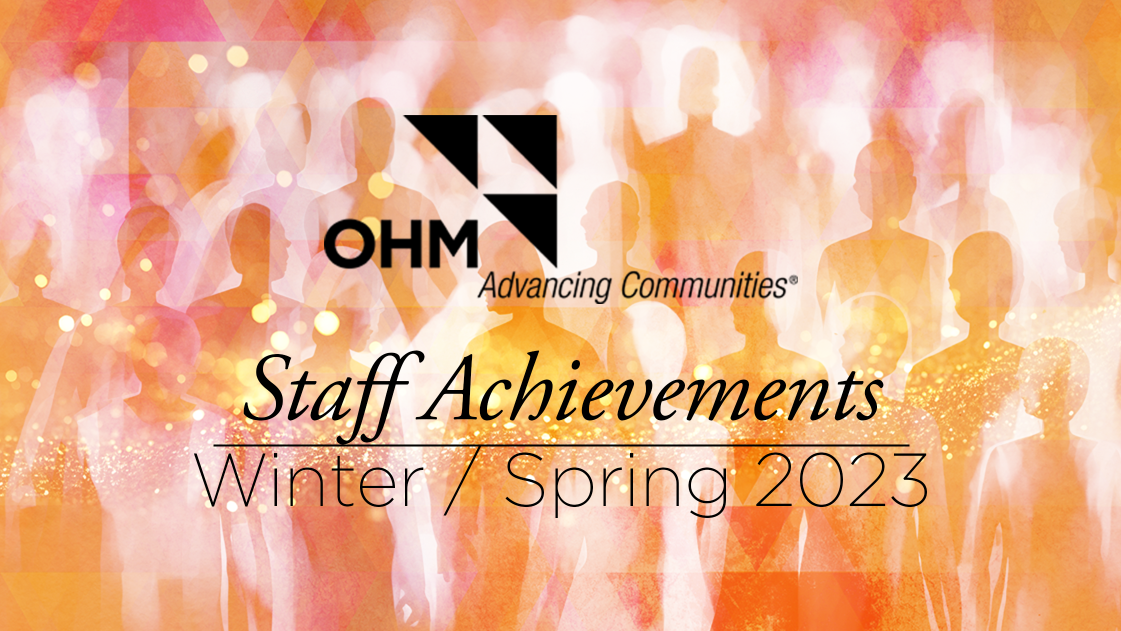 Here, we are proud to highlight achievements by a few deserving OHMers.
Our zeal for Advancing Communities drives us to give more every day. It challenges us to think differently, fuels intense collaboration with our clients and each other, and makes this organization—our OHM Advisors' family—special.
Along our journey as professionals and team members, we are recognized for our industry contributions and are proud to share our achievements:
---
Michigan Radio — Michigan's NPR news leader — interviewed Greg Kacvinsky, PE, on how he's working with city, civic, and local partners to create better deicing solutions.
Greg partners with prominent organizations throughout Michigan to review current water samples and challenges and identify new solutions and best practices for pivoting away from the damage salt is causing to Michigan water sources.
However, there are still obstacles, says Greg. He opines that the 1998 Bolt opinion by the Michigan Supreme Court "scared away" communities from setting up stormwater utilities. "Without having the safe, legal means to establish stormwater utilities, many Michigan communities find it difficult to raise revenue to pay for infrastructure improvements to clean up stormwater before it reaches rivers and lakes," he says.
Click here to learn more about how Greg helps identify better salting solutions for Michigan roads and waterways.
The American Council of Engineering Companies of Michigan (ACEC/M) honored John J. Hiltz, PE, Executive Director and Chairman of the Board of OHM Advisors, for the 2023 Vernon B. Spalding Leadership Award.
Honorees are perceived by the profession and in their communities as leaders and demonstrate—through their civic involvement—how the quality of life in their community has been enhanced.
This recognition is well-deserved for John.
John was firm president from 2009 until he transitioned to executive director in 2021. With nearly 40 years of engineering consulting experience for the firm and the last two decades in leadership positions, his passion for engineering is reflected by his active service as a leader at local and state levels within multiple professional and educational organizations. A past ACEC/Michigan president, John has long been a passionate advocate for the engineering profession and the issues it faces in an ever-changing climate.
As a proud University of Michigan alumnus, John serves on the Engineering Alumni Board and is a past president of the Civil and Environmental Alumni Board. He is also active on many community boards and commissions, and is dedicated to giving back.
John's commitment to advancing communities is evident in all he does for the organizations and volunteer positions he serves. He is genuinely committed to making the areas where we live, work and play a safe and inviting space for all to inhabit and use today and for years to come."

-           Jon Kramer PE, president, OHM Advisors
Susan Knepper, PE, is a drinking water superstar in her field and inside our OHM walls.
Her water modeling and distribution experience is why InfoWater Pro and ArcGIS invited Susan to partner with them to explain how she helped the City of Livonia, MI, respond faster to water emergencies.
In January 2018, Livonia experienced a water meter failure, causing several water main breaks, closing a major highway and imposing a city-wide boil-water advisory. The reason? Aging infrastructure.
Susan helped to create a modern digital plan using GIS-based hydraulic models that can be shared and updated with water utility engineers and operators to reduce consumer impact during emergent situations. Working with city and municipal partners, she developed dashboards so city water engineers have the correct information at the right time.
Now, Livonia Department of Water engineers and crisis coordinators from other city departments may quickly, efficiently, and effectively access the digital dashboards to view scenarios, find meter locations, and review step-by-step guidelines for responding to low-water pressure situations.
In Autodesk's Water Talks, Susan addresses this dashboard project in the episode, "An Innovative Approach to Emergency Response Planning."
Jessica Daignault, PE, Ph.D., Project Engineer at OHM Advisors and Assistant Professor in the Civil Engineering Department at Montana Technological University, shared her expertise with an international audience at the 27th Conference of the Parties (COP) to the United Nations Framework Convention on Climate Change in Sharm el-Sheikh, Egypt.
Dr. Daignault and Emily Rutledge, an environmental engineer with CLEARAS Solutions, gave a joint presentation that explained the environmental impact of CLEARAS Solutions' patented Advanced Biological Nutrient Recovery tertiary wastewater treatment system. Their research will also be shared in a climate-solutions display at the United States Center in partnership with the U.S. Department of State.
Click here to watch Dr. Daignault and Emily's presentation on climate change at COP27.
The American Council of Engineering Companies of Ohio (ACEC) selected Dawson Libben, one of our engineering aides, to receive the 2023 ACEC Ohio Scholarship.
Libben was recognized at the recent ACEC Ohio Engineering Excellence Awards Luncheon. Congratulations and good luck in your education, Dawson!
Also worth noting: our "Vision for the Valley" also received a 2023 Honor Award at this awards luncheon. 
Return to TOP of PAGE.