Drones: The Era of Apps after Maps
Image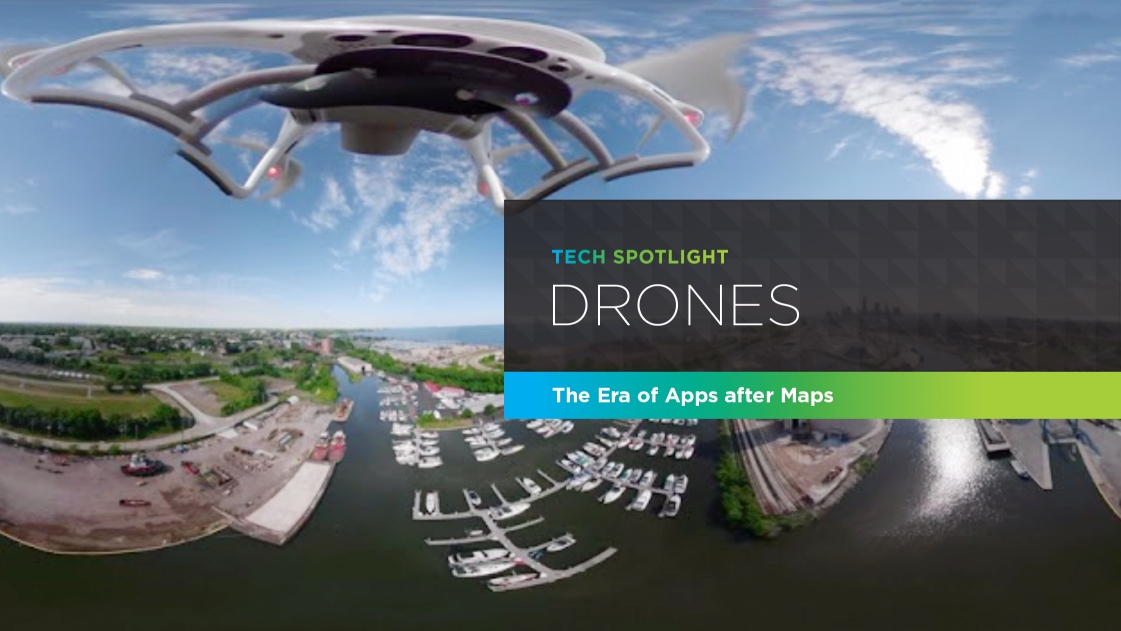 In our recent GIS Tech Spotlight blog, we highlighted some of the amazing technology tools available in our industry, and how we're using them at OHM Advisors to help solve our clients' problems and implement efficiencies to project management and execution across all areas of our business.
A key point we touched on was the truly unlimited potential of technology—how we're using common tools in uncommon ways to help our clients with impactful, innovative solutions.
We're doing it with drones, too. And here's how.
Drone Tech Basics
Unmanned aircraft systems (UAS), commonly referred to as "drones", are now an almost-ubiquitous technology whose use significantly increases efficiencies in our industry. With 18 OHM Advisors team members certified to operate drones by the FAA, we've been using them for years in traditional survey functions to create aerial topographical mapping for ALTA surveys, site design, watershed analysis, road design, and traffic signal and intersection improvements—which should now be standard practice in our industry.
We've passed on measurable savings to clients across nearly all of our disciplines from a reduced need for field staff to gather existing project area data—not to mention reduced risks and increased safety for our teams by mitigating the need for field staff to work in areas of heavy traffic and other hazardous situations.
We've also used drone surveys in construction quantity and planning concept cost estimates, taking photographic information and converting it to a topographic line drawing at a fraction of the cost of a typical ground survey to calculate an estimated project cost for a client. And we use drones routinely to capture photography and video of sites before, during and after construction.
Innovative Uses
Project promotional videos
As part of our Planning team's work with the City of Cleveland, Ohio on its Vision for the Valley project to design an integrated water and land use plan for the Cuyahoga River Valley, we captured drone video of the project area to create an interactive map experience to garner public comment and feedback from affected residents and stakeholders.
First, we used our 3D printing technology to print a 360-degree camera mount that we attached to the drone in order to capture 360-degree video and still photos in the flyover. With the video and photos, we designed an interactive "OHM 360 Experience" where users could control the camera with a click and drag of their computer mouse to see a full, 360-degree video view of the project area. Then, they could access the project map and place comments on it regarding what they saw as potential challenges and opportunities for the project.
Design intent showcase
Routinely, our discipline teams use drone video in project proposal site analyses to more fully illustrate potential solutions for their challenges. We take drone video of an entire project area and use it as a "storyboard", overlaying graphics to illustrate proposed improvements and show how our solutions will help them fulfill their project goals and vision. We present these videos at city and town council meetings to further municipal leaders' and residents' understanding of the project. Then, we offer the video for publication on the community's website so that interested residents and stakeholders can visualize potential plans for their community and offer their important feedback on the process.
Inspections and assessments
We've also frequently used drones to inspect and assess bridges, building facades, roofs, MEP/HVAC systems, pipelines, solar farms, wind turbines, streetscapes, streambank erosion and disaster areas in emergency flood response—to name a few—to create cost efficiencies for our clients and project management efficiencies for our teams, especially in difficult or dangerous-to-access areas.
Recently, we performed an exterior condition assessment of the historic Ohio Supreme Court building in downtown Columbus, Ohio, built in 1933 and renovated in 2004. Over the last twenty years, parts of the original and the renovated stone façade have started to fail. Our architecture team was tasked with assessing the façade and determining the needed repairs.
Since the task required us to look closely at the entire building façade, we chose to use drones instead of the traditional "swing stage access" method, which would have required working with a contractor to stage the work for us and allow our architects and engineers on their stages to correctly perform the inspections. It also would have required good weather and special training to ensure safety—factors which we couldn't control, and which would have increased costs significantly.
We completed the drone inspection in two days—a significant time savings which translated to a lower fee for our client, both from time saved in the field and a lower inspection employee hourly rate.
Other innovative uses
Perhaps one of our most innovative approaches is our recent acquisition of a thermal camera to use with our drone tech, which can translate heat into visible light in order to analyze a particular object or area. With this combined technology, we've completed a pro bono solar panel assessment for a convent; completed a city building energy assessment; and helped a Tennessee water authority client locate a system leak by scanning for a temperature differential in dry and wet weather and then verified the leak's location.
Measurable Benefits
The measurable benefits of drone usage in your community's projects are many. They include, to name just a few:
Significant cost savings from a reduced need for physical staff
Significant safety improvement in hazardous conditions
Otherwise uncapturable views
Remote sharing of footage
Detailed visual display for community engagement and project buy-in
To learn more about what OHM Advisors' drone capabilities and other innovative technologies can do for you, contact our Survey team today.