OHM Advisors Convenes City Thought Leaders to Discuss COVID-19 Challenges and Opportunities
Image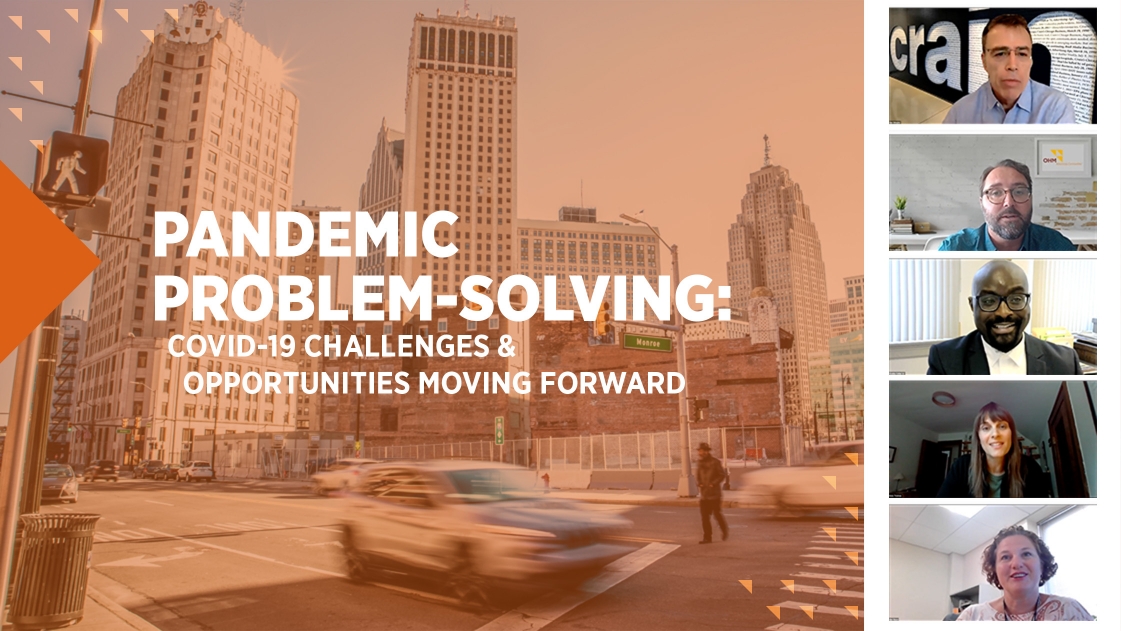 On October 6, OHM Advisors convened a panel of city and regional thought leaders for a webinar discussion entitled, "Pandemic Problem-Solving: COVID-19 Challenges and Opportunities Moving Forward", moderated by Crain's Cleveland Business reporter, Dan Shingler.
As part of the panel of experts from the government and private sectors, OHM Advisors Principal Aaron Domini joined Freddy Collier Jr., Director of City Planning, City of Cleveland, Ohio; Katy Trudeau, Deputy Director, Planning & Development, City of Detroit; and Kim Sharp, AICP, Senior Director of Development, Central Ohio Transit Authority (COTA), to discuss the challenges and opportunities facing cities in the Midwest in this lingering age of Covid.  
The hour of insightful discussion and commentary covered a wide range of issues related to how COVID-19 has irrevocably changed the way we must design, develop, and plan our cities. Among other things, the experts discussed what our city designs should encompass moving forward in terms of strengthening their resiliency and preparedness for the future—including putting in place effective and equitable infrastructure; combining mobility planning and design with land use planning; and designing better public service systems for all residents.
Conversation highlights included:
In stressing the need for our country to truly move forward and make "once in a lifetime, generational" changes, Domini referred to the country's historical developments in shipping, railroads, and the creation of the Federal Highway Administration—innovative disruptions that transformed America.
"We have to stop thinking of these changes as an expense," he stated, "and start thinking of them as an investment."
Click below to watch the entire panel discussion.