Future Road Design Planning for Cities, Part 1: Improving Safety for All
Image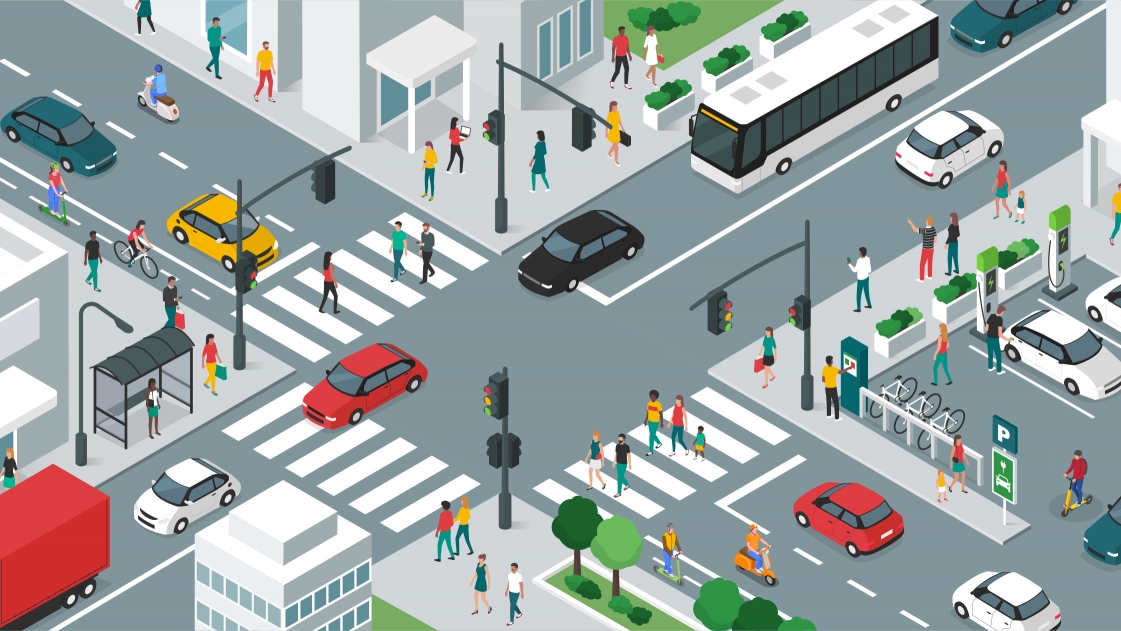 Transportation needs in the U.S. continue to change as travel patterns shift, congestion increases and land use evolves. As we explored in our 4-part blog series on The Future of Transportation, cities contemplating future street design projects must consider a number of critical factors in their transportation planning efforts. With an increasing number of different users of our roads and highways, where should cities start in planning a more efficient and equitable transportation system for all?
Start with Safety
Every day on our country's roads, it's common to see pedestrians, cyclists, scooters and vehicles sharing the road. All of those travelers want—and should be able—to travel without fear of injury regardless of how they choose to get around. Regardless of the user, designing roads based on safety outcomes tends to resonate with most people who live in a specific community. These changes are needed more than ever, especially as pedestrian deaths in traffic crashes continue to rise dramatically.
Of course, designing a street will always involve a give and take between users. There will be trade-offs when designing for safety with regard to speed, congestion and accommodations for cyclists, pedestrians, and other non-motorized users. The needs for each user depend on an individual community's priorities. But in designing a more equitable transportation system, cities would do well to consider multimodal-user mindset from the beginning—as opposed to a single-user, private vehicle one—and placing improved safety for the most vulnerable users at highest importance.
Designing a Safer System for All Transportation Modes
Speed Equity
The most effective way to design safer streets with the wellbeing of the most vulnerable users at the forefront is by considering the idea of "speed equity"— meaning that the difference between the highest and lowest speeds on a street should be as low as possible. When the difference in speed is lower, non-motorized users feel safer and are more likely to walk and bike. The opposite is true for streets with high vehicle speeds.
Consider that a typical pedestrian travels 3 mph and a cyclist, 12-15 mph. If vehicles on a traditional downtown main street travel at 25 mph, the difference of 22 mph between pedestrians and vehicles and about 10 mph between cyclists and vehicles feels safe and comfortable. However, when you move non-motorized users to a large arterial street where cars are traveling 50 mph, the comfort zone disappears.
Slowing down vehicle speed does two very important things for increasing safety. First, it increases a driver's field of vision and reaction time so that they are able to easily respond to changing road conditions. Second, as a vehicle's speed increases, the chance of a pedestrian surviving a collision decreases exponentially. As shown in the chart below by the Institute of Transportation Engineers (ITE), the fatality rate for pedestrians struck by a vehicle increases nearly 70% with a mere 20-mph increase in vehicle speed. Not only is a driver less likely to hit a pedestrian while going 20 mph, but if it happens, the pedestrian will likely survive the collision. The opposite is true for fast-moving vehicles.
Design Options
In addition to speed equity, many options exist for infrastructure design that improve safety for the most vulnerable travelers and can help move our society from a vehicle-dominated transportation system to one that better accommodates multiple travel modes. The concept behind these design options is to make less utilized forms of transportation safer, easier, and more accessible.
For example, providing more space for pedestrians in the form of wider sidewalks and buffer zones can help pedestrians feel insulated from the road. Protected and buffered bike lanes and off-road trails provide additional distance between vehicles and cyclists, improving safety. And narrower driving lanes for vehicles and on-street parking cause motorists to slow down and pay extra attention to their surroundings.
In our recent work on the Michigan Department of Transportation's (MDOT) M2D2 Guidebook, our team combined "Complete Streets" principles with best practices from the National Association of City Transportation Officials (NACTO) and various state and local transportation agencies to create a framework for the improvement of the state's multimodal travel. Some of those design best practices include traffic-calming changes to street design such as:
Narrowed driving lanes
Curb bump outs
Chicanes
Pedestrian Refuge Islands
Higher stop control concentration (more stop signs and stop lights)
Denser surrounding land use
On-street parking
Urban roundabouts
Our Transportation Planning and Engineering teams at OHM Advisors have helped communities bring these designs to life in projects like the Lane Avenue Corridor Study, Newark Downtown Revitalization, COTA – CMAX Bus Rapid Transit and the Spring and Long Streets Multimodal Conversion projects—to name a few—and are currently working on them in Detroit and other areas of Michigan.  
Benefits for Cities
Changing transportation systems to accommodate multimodal users with a focus on safety for all provides cities countless benefits over the long term. It decreases economic loss to communities from the impact of roadway accidents—measured in 2017 in the U.S. at over $75 billion in medical care and productivity losses associated with occupant injuries and deaths. It creates a more fiscally sustainable transportation network with reduced maintenance and update costs through the life of the street. And multimodal streets are typically seen as places where people want to be, providing economic development opportunities for local business and entrepreneurs.
According to Smart Growth America, implementing Complete Streets policies early in the design process and incorporating transportation planning design for bicycle, pedestrian and public transportation accommodations avoids costly project delays and future network retrofits as well as erosion of public support when these users' needs are not fully considered at the outset of a community project.
A Happy 'Median'
Ultimately, planning for updates to a city's transportation network involves the consideration of current budgets and funding options along with discussions about planning priorities with its stakeholders and the public to determine a design middle ground that balances the fiscal and safety needs of the whole community. Any investment in bringing that 'median' multimodal transportation plan to life is a long-term investment a community's overall health that will continue to pay dividends over time.
To learn more about planning integrated transportation systems for your community's future, contact our Transportation Planning team or contact Eric Dryer at (313) 481-1250 today.