Five New Shareholders Elected to OHM Advisors Firm Partnership
Image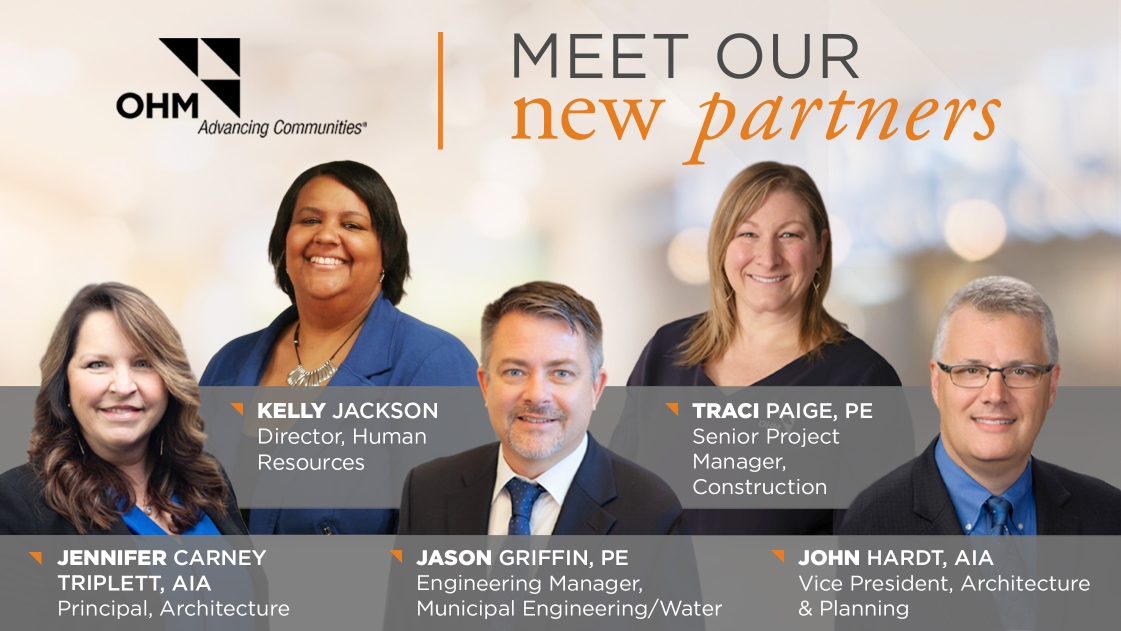 Former VP of Engineering announced as new Chief Operating Officer
OHM Advisors' board of directors and partners recently elected five new shareholders: Jennifer Carney Triplett, Jason Griffin, John Hardt, Kelly Jackson and Traci Robinson Paige. The partners were recently elected to the 59-year-old community advancement firm's ownership group by fellow owners and partners. Nominated from among the firm's many outstanding professionals, they represent a range of disciplines, experience levels and specialties. Each is recognized for their contributions within the firm and dedicated service to clients and colleagues.
"One of the things I'm proudest of is the level of talent at our firm," said President Jon Kramer. "These folks are not only high-caliber professionals but are the finest of people as well. They have consistently demonstrated their commitment to the success of the firm, to each of the clients they and their teams serve, and most importantly, to each other. We're thrilled for them to join the firm's ownership group and know they will strengthen our continued growth and our mission of Advancing Communities."
Jennifer Carney Triplett, AIA, NCARB, LEEP AP | Columbus, OH
Principal, Architecture
Carney Triplett joined the firm in January 2020 with three of her dedicated team members from her former privately co-owned firm, Carney Ranker Architects in Dublin, Ohio, as part of an expansion of OHM Advisors' architecture discipline into the healthcare market. She has been designing spaces in that market for over 30 years, with impressive client experience ranging from major health systems such as OhioHealth, The Ohio State University Medical Center and Mount Carmel Health System to smaller, rural health centers whose needs led to designs advancing healthcare services in their communities. Together with her team, she works with a passionate, career-long commitment to exceptional client service.
Jason Griffin, PE | Nashville, TN
Engineering Manager, Municipal Engineering/Water
Griffin joined the firm's Nashville office in 2019 as part of a plan to bring on municipal and water resources engineering leadership to the area. A local native and inspiring leader with nearly 25 years of engineering consulting experience, his growth mindset has led to the addition of multiple new clients across the state and nearly 20 new staff members to support that growth. Griffin recognizes the team effort that it takes for transformational growth to occur, and he leads his team with an inspirational style promoting opportunities for talented staff to advance their careers and the communities they serve.
John Hardt, AIA, NCARB, LEED AP | Columbus, OH
Vice President, Architecture & Planning
Hardt joined the firm in 2019 as Vice President of Architecture after an intensive search for the right candidate to lead the discipline, streamline communications and processes across geographies and devise important growth strategies for the future. An expert design consultant with impressive leadership experience from his years with AECOM and over 25 years of project experience across the public and private sectors, Hardt championed the firm's expansion into the healthcare market within just months of his arrival. It soon followed in 2020 that he was appointed to preside over the related planning and landscape architecture/urban design disciplines.
Kelly Jackson | Livonia, MI
Director, Human Resources
Jackson has been with OHM Advisors for over 25 years, having built the Human Resources department from its beginnings and risen to its first Director just five years after starting with the firm. During her tenure, the firm has grown from approximately 60 employees in a single headquarters to over 500 employees across multiple offices in five states. She has extensive experience in HR development and compliance, strategic diversity leadership, and management training and development. Since 2017, she has been devoted to the firm's Diversity, Equity & Inclusion efforts and was instrumental in former President John Hiltz's 2020 signing of the CEO Action for Diversity & Inclusion™ Pledge.
Traci Robinson Paige, PE | Midland, MI
Senior Project Manager, Construction Engineering
Robinson Paige joined OHM Advisors in 2017 from a leadership role with the Michigan Department of Transportation. She is an integral Construction Engineering Senior Project Manager in the firm's Saginaw regional office with nearly 18 years of industry experience, is a natural leader, and acts as an invaluable point of contact for many key clients who rely on her as a trusted adviser. Robinson Paige enhances the growth of others and enthusiastically instills the firm's core values to her team and the next generation of leaders, and models exemplary communication and project delivery skillsets to the teams she oversees.
OHM Advisors also recently announced that former Vice President of Engineering, Kent Early, succeeds new President Jon Kramer as the firm's Chief Operating Officer, effective January 1, 2021. A 20-plus year veteran of the firm, Early possesses an innate growth instinct which has propelled him to several leadership positions including his most recent vice presidency throughout 2020. The holder of a master's degree in business administration, he became a firm partner in 2004 and board member in 2017.
"Aside from Kent's deep technical engineering prowess, he is adept at financial management, risk mitigation and staff supervision," said Kramer. "His combined talents and experience make him the ideal person to lead OHM Advisors' business operations into the future."
About OHM Advisors:
OHM Advisors is the community advancement firm. Founded in 1962, we deliver award-winning work across the architecture, engineering, and planning spheres. With offices in multiple states, our 500+ person team partners with leaders at all government levels, school districts, developers, universities, and private companies to create great places.