Call, Loveland, Warren, Ulasir, and Rolfe Announced as Shareholders
Image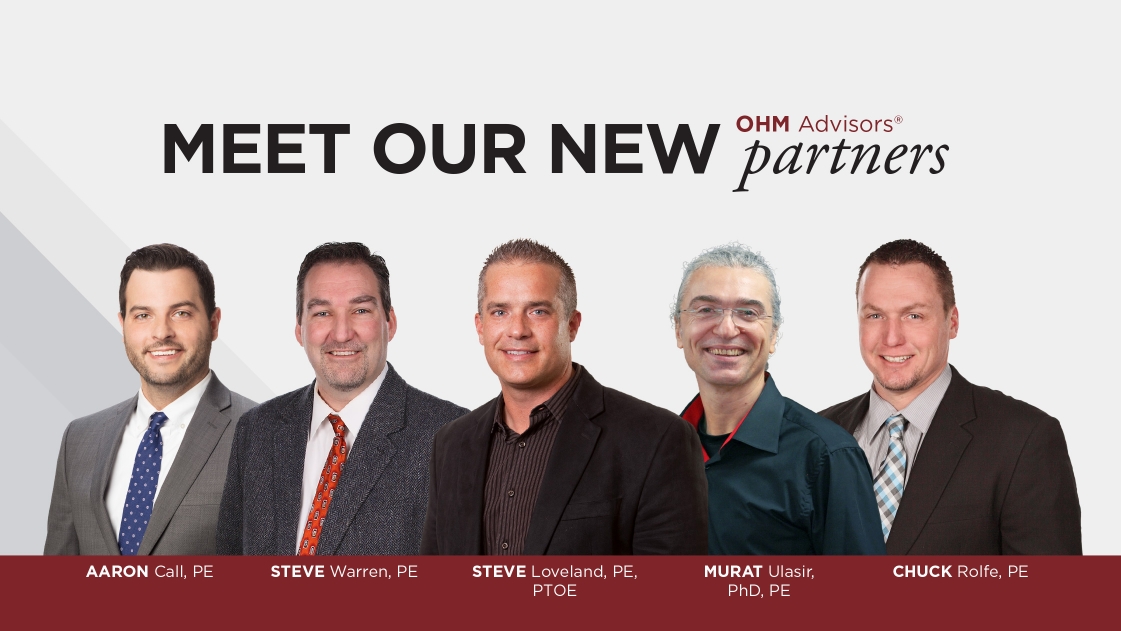 OHM Advisors is pleased to welcome five new shareholders to its ownership group
OHM Advisors' Board of Directors and Partners are pleased to announce the election of five new shareholders to its ownership group. Our new shareholders, nominated from among the firm's many outstanding professionals, represent a wide range of disciplines, experience levels, and specialties. They share a passion for what we do and dedication to our clients, and we look forward to their future contributions to the growth and success of our firm.
A senior project manager with 12 years of experience working on a wide range of transportation projects for state and local government agencies, Aaron Call, PE, leads engineering services out of OHM Advisors' Columbus office. Passionate about finding unique ways to turn routine roadway projects into impactful community enhancement opportunities, his efforts have helped grow the firm's client base within the Columbus market. Aaron is the Past President of the Central Ohio Chapter of the American Society of Highway Engineers, and a graduate of The Ohio State University.
As manager of our Livonia traffic team, Steven Loveland, PE, PTOE is responsible for staff oversight and project delivery for several clients—including MDOT. Since joining the firm in 2001, he has served in the roles of technical specialist, project engineer, project manager, and now, operations manager—developing deep expertise and long-standing client relationships in the process. Dedicated to strengthening and supporting his profession, Steve is an active member of the Institute of Transportation Engineers and served as chapter vice president in 2013. He is a graduate of Michigan Technological University.
Steven Warren, PE is the director of OHM Advisors' Saginaw office, and has been advising municipalities throughout Michigan for more than 20 years. Since opening the firm's Saginaw office in 2013, Steve has built a strong and diverse team, helped fortify the firm's reputation and client relationships in Mid-Michigan, and opened an office in Flint. Under his leadership, staff retention is high and OHM Advisors is thriving in the mid-Michigan market; turning in profitable revenue growth and securing multiple new clients in 2016.
Murat Ulasir, PhD, PE is a technical expert with more than 20 years of experience in consulting engineering, research, and teaching. He is known for his ability to ask tough questions and offer thoughtful solutions. A specialist within the firm's environmental water resources group, Murat is focused on the areas of infrastructure modeling and sustainable asset management. He was instrumental in building an OHM Advisors team with the strength and expertise to help nearly 30 communities obtain funding and implement the technical requirements of Michigan's SAW Grant Program. Murat has a PhD from the University of Michigan in civil engineering/hydraulics.
Chuck Rolfe, PE is a senior project manager in our Saginaw office with more than 17 years of design and construction engineering experience. After just three years at OHM Advisors, he has proven adept at both project delivery and business development—excelling in his role with consistent profitability and client satisfaction. His efforts procuring work with several MDOT TSCs and municipalities, including the Village of Chesaning and the City of Rose City, contributed greatly to the firm's success in the Mid-Michigan market. Chuck is a graduate of Michigan State University.
OHM Advisors is a privately-owned company, governed by a Board of Directors. Shareholders, 34 strong with the latest appointments, are collective owners in the company.
About OHM Advisors:
OHM Advisors is the community advancement firm. Founded in 1962, we deliver award-winning work across the architecture, engineering, and planning spheres. With offices throughout Ohio, Michigan, and Tennessee, our team partners with leaders at all levels of government, school districts, developers, universities, and private companies to create great places.