Zachary Hampton Named OHM Advisors 2022 Employee of the Year
Image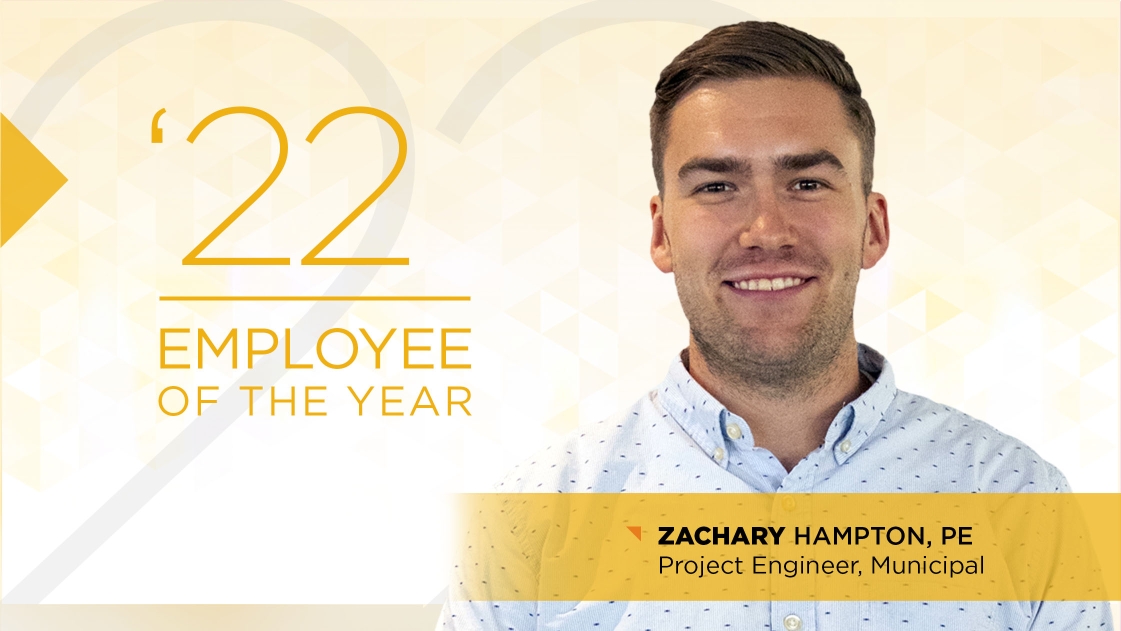 OHM Advisors named Zachary Hampton, PE, its 2022 Employee of the Year in its recent Employee Service Recognition ceremony. The prestigious award is selected annually from a firmwide call for nominations and final vote of the highly qualified candidates, all of whom are energetic, mission-driven professionals whose contributions are tremendously valued.
A project engineer on the firm's municipal engineering team based in Detroit, Michigan, Hampton joined OHM Advisors in 2016. He works on a multitude of municipal projects centering around infrastructure planning and design, municipal site review and development, municipal asset management, and utility design and construction. His projects have involved municipal parks, on and off-street non-motorized facilities, local roads, arterial roads, utilities, green infrastructure, stormwater management systems and more.
Hampton is considered by his colleagues to be a fully engaged, friendly professional who is dedicated to his and the team's work and exudes positivity in the work environment. Outside his project engineer consulting for several of the firm's large southeast Michigan area clients, he is an earnest teacher and mentor of junior professionals and staff.
A metro Detroit resident, Hampton is a licensed professional engineer in Michigan. He holds a Bachelor of Science in Civil Engineering from Michigan State University and is a member of multiple professional associations. He won the 2022 Executive Director Award from the Michigan Section of the American Water Works Association, which is given to the volunteer who embodies the unique partnership between section staff and volunteers. As OHM Advisors' Employee of the Year, he receives an additional week of paid time off, a monetary bonus, an engraved crystal award and a special place in the firm's history as a highly valued employee.
About OHM Advisors:
OHM Advisors is the community advancement firm. Founded in 1962, we deliver award-winning work across the architecture, engineering, and planning spheres. With offices in multiple states, our 650+ person team partners with leaders at all government levels, school districts, developers, universities, and private companies to create great places.