Amy Crowgey Named OHM Advisors 2020 Employee of the Year
Image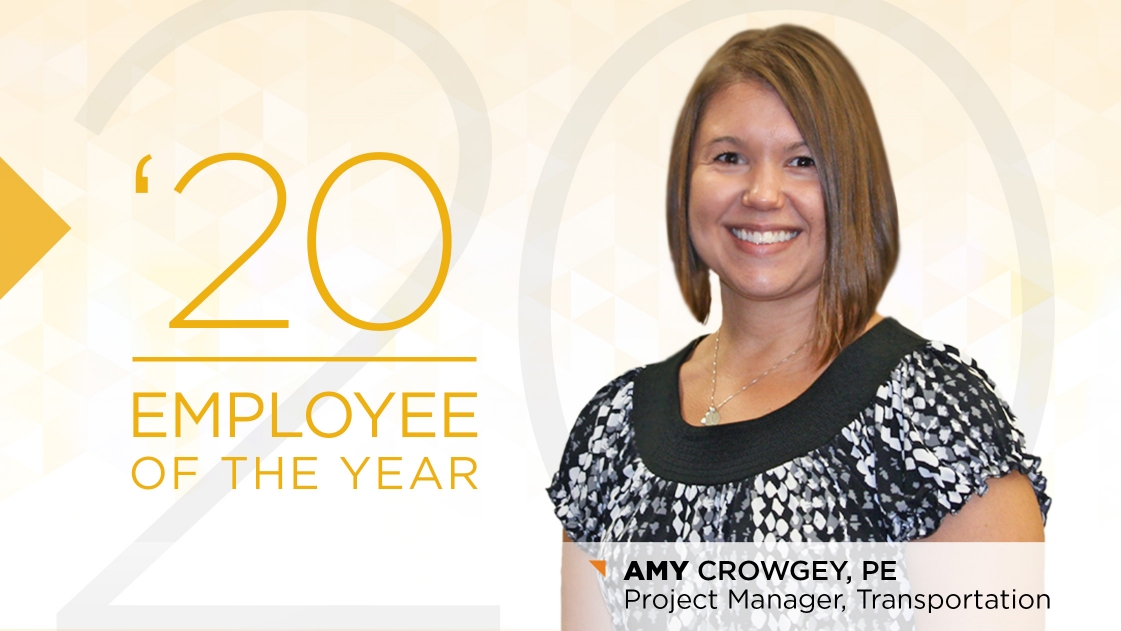 During OHM Advisors' recent virtual Employee Service Recognition ceremony, Amy Crowgey, PE, received the firm's 2020 Employee of the Year award. The prestigious award is selected annually from a firmwide call for nominations and final vote of the highly qualified candidates, all of whom are energetic, mission-driven professionals whose contributions are tremendously valued.
A respected project manager on the firm's Livonia, Michigan transportation team, Crowgey joined OHM Advisors in 2013 with ten years of previous bridge and roadway design experience and quickly grew to lead the team's largest and most complex road design projects for the Michigan Department of Transportation (MDOT). She is a master of project design visioning and the technical MDOT processes and procedures required to bring that vision to life. In 2020, Crowgey's efforts helped secure the largest road design project in firm history.
"To say that I'm excited and proud of Amy's recognition as our newest Employee of the Year would be an understatement," said Transportation Practice Leader, Scott Emmons. "Not only is she a technical expert and an exceptional leader with strong organizational and communication skills, but she has a gift for creating 'elegant design solutions'—a bit of a lost term in our industry these days—that are seamless, aesthetically beautiful, and exemplify the firm's mission of Advancing Communities."
Crowgey is considered by her colleagues to be a consummate professional who works closely with her clients to understand their challenges, manages large scale multidisciplinary projects to implement solutions to those challenges, mentors dozens of junior professionals and staff on MDOT procedures and processes, and strategizes business development plans for future endeavors.
"Aside from her obvious expertise that has driven the growth of our team to new levels, Amy embodies the firm's core values of Dedication, Teamwork, People-Caring and Integrity," Emmons said. "Above all, she puts people first in both her management methods and client relationships. She believes in the importance of the entire team and the entire vision that drives their collaborative work."
Known by her professional peers as a caring, family-first individual, Crowgey's contributions extend beyond the firm. She and her husband, Nate, a fellow engineer, have two school-aged children whom Crowgey has taught at home in tandem with her professional responsibilities during this year's pandemic. She has also volunteered weekly in support of her children's school community.
Crowgey is a proud "Yooper" from Michigan's Upper Peninsula and holds a Bachelor of Science in Civil Engineering from Michigan Technological University. As OHM Advisors' Employee of the Year, she receives an additional week of paid time off, a monetary bonus, an engraved crystal award and a special place in the firm's history as a most deserving and respected employee.
About OHM Advisors:
OHM Advisors is the community advancement firm. Founded in 1962, we deliver award-winning work across the architecture, engineering, and planning spheres. With offices in multiple states, our 500+ person team partners with leaders at all government levels, school districts, developers, universities, and private companies to create great places.