Real-Time Water Quality Monitoring for More Resilient Water Systems
Image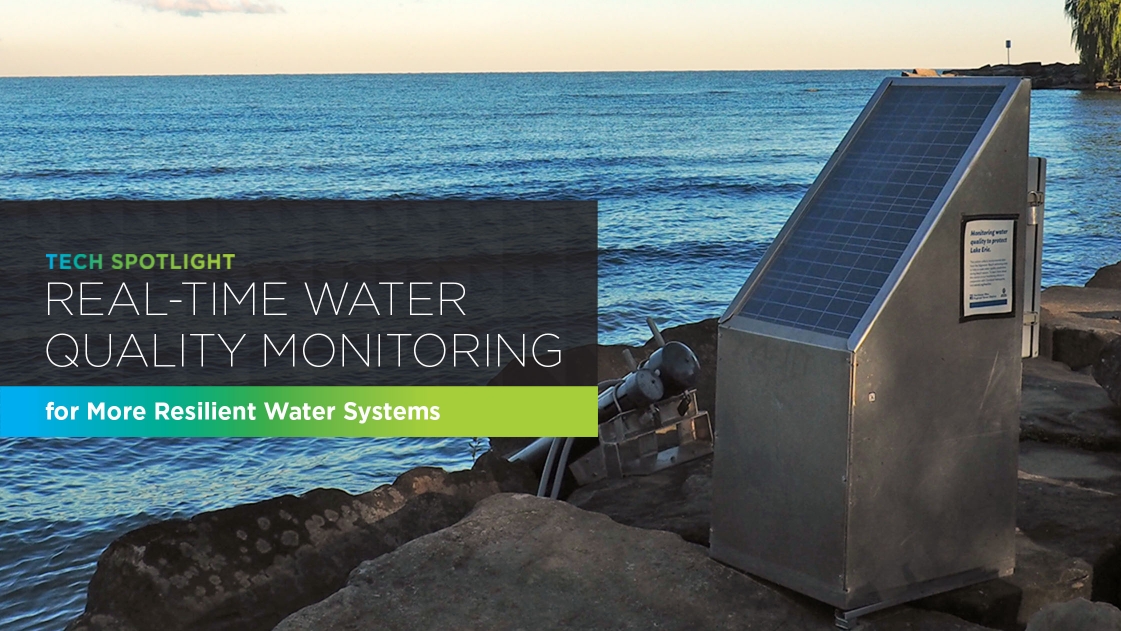 Earth's surface waters are the most precious of natural resources, sustaining all life on the planet, and everything that happens on land impacts the quality of this resource for all. With ever-changing climate and human-influenced conditions impacting our lakes, rivers and streams, the importance of water quality monitoring has never been more important. At OHM Advisors, we're helping clients use the latest monitoring technologies to identify surface water threats more quickly, make critical environmental decisions more insightfully, and meet increasing regulatory requirements—ultimately building more resilient water systems for the future.
Real-Time Water Quality Monitoring
What is it?
Simply stated, the process uses state of the art technology to capture actionable data in real time. Traditionally, water quality monitoring has been a largely manual process, with field data collectors gathering physical grab samples at various surface water locations in cases of pollution, illegal discharges, harmful runoff, climate-induced threats and more. Physical field samples are taken back to the lab for culture-based analysis and system managers await results, which can take days and sometimes weeks. This single-point-in-time sampling process provides varying results and delays the most effective action when remediation or other action is necessary.
Real-time water quality monitoring uses technologically advanced monitoring sensors to collect in-stream water quality measurements and make data available for analysis and action in real time. Field teams deploy sensors strategically at designated points in a given surface water area to monitor waters within defined measurement parameters. Those sensors are monitored continuously to create a high-density dataset for fast analysis through a cloud-based data analytics platform.
The tech
There are three main technology components needed to set up a real-time water quality monitoring system—and as would be expected, many brand options to choose from for each of those components. First, water sensors, probes or "sondes" are placed in the water at physical locations to take continuous samples. Next, the samples are data logged through a remote monitoring device set up near the sampling site that combines data logging, digital processing, global positioning and telemetry and links those sensors in the field to the cloud network. Finally, that cloud network is accessed through a physical data analytics platform located at the analysis location at the water utility system. The three components work in tandem on a continuous basis to form a complete, real time data set that can be analyzed and permanently stored.
Benefits
The benefits of advancing to a real-time water quality monitoring system are many but include as the most important, access to instantaneous data, ease and convenience of use, and improved accuracy of water quality measurements.
Instant data and eliminated lag time in obtaining results allows for critical decision making before conditions in the field have changed, which is vital to preventing expensive repairs from a system breakdown. The systems allow easy access to all of the data in one place via the Internet, so users from any location—in the field, lab, or on site at a project or local emergency—can reach it. And the data itself is more accurate, not only because the human error involved in manual sampling is eliminated, but because monitoring results represent continuously analyzed data over multiple days and times instead of singular moments in time.
All of these benefits help water system managers identify threats to surface water earlier, make more fully informed decisions affecting the systems and the public they serve, and comply with ever-changing regulatory water quality monitoring requirements at federal, state and local levels.
Building more resilient water systems
As the nation considers the recently finalized law on federal infrastructure funding, the work continues to build better, more resilient water systems that will withstand more frequent and unpredictable climate, pandemic, social and other emergencies and continue to serve the public health and safety. Innovations in water technology are essential to those efforts—according to the U.S. Environmental Protection Agency (EPA), reducing costs and improving techniques for water quality monitoring is the fifth of ten top market opportunities in the EPA's Water Technology Innovation Blueprint for technology and institutional innovation. The EPA states: "Making smart choices about water management depends on collecting accurate and timely data. New monitoring and sensing technologies represent both an opportunity and a necessity for responsible stewardship of our water systems."
In terms of how that's been happening in the water sector over the last decade, the EPA's website points to examples of innovative water monitoring advancements including, among others: the Kansas City area's "KCWaterBug" mobile and web application that provides live water quality data so users can make real-time informed decisions about recreation in numerous area streams; Clemson University's Intelligent River Research Enterprise, a data acquisition system supported by a network of real-time water quality sensors along the entire length of the Savannah River; and The Jefferson Project, a collaborative effort to develop a lake environmental monitoring and prediction system to provide a real-time understanding of the health of Lake George, New York.
OHM Advisors case studies
We're doing interesting work here at OHM Advisors and partnering with organizations such as the Northeast Ohio Regional Sewer District (NEORSD), the Cleveland Water Alliance and the University of Michigan to help clients use innovative real-time water quality monitoring techniques to solve challenging water threat problems.
Here's a look at a few of our Water teams' recent projects:
Edgewater Beach Bacteria Monitoring
Our team partnered with NEORSD and the Cleveland Water Alliance to explore the use of optical indicator parameters for real-time, continuous bacteria monitoring at Edgewater Beach in Cleveland, Ohio. The use of these parameters at beaches creates new opportunities for effectively addressing sources of bacteria in the water and implementing real-time alert systems for beachgoers when bacteria levels are elevated enough to adversely affect public health and safety.
Clinton River Watershed Monitoring
Working in partnership with the University of Michigan School for Environment and Sustainability, we tested the ability of optical indicator parameters to quantify E. coli loading during storm events in urban and rural sub-watersheds of the Clinton River. It ultimately seeks to understand if water quality can be improved by moderating flow and setting flow targets for watersheds with different land use patterns.
Great Lakes Water Authority Evaluation of Emerging Technologies
The Great Lakes Water Authority (GLWA) provides water and wastewater services to over 30% of Michigan, including operating combined sewer overflow facilities and discharge points. We are exploring real-time monitoring strategies and evaluation of emerging technologies to continuously monitor E. coli using optical indicator parameters to help advance GLWA's goals of expanding monitoring and improving water quality in the region.
To learn more about what real-time water quality can do for your community, contact our Water team at waterinquiry@ohm-advisors.com today.