OHM Advisors Projects Honored with Michigan Landscape Architecture Awards
Image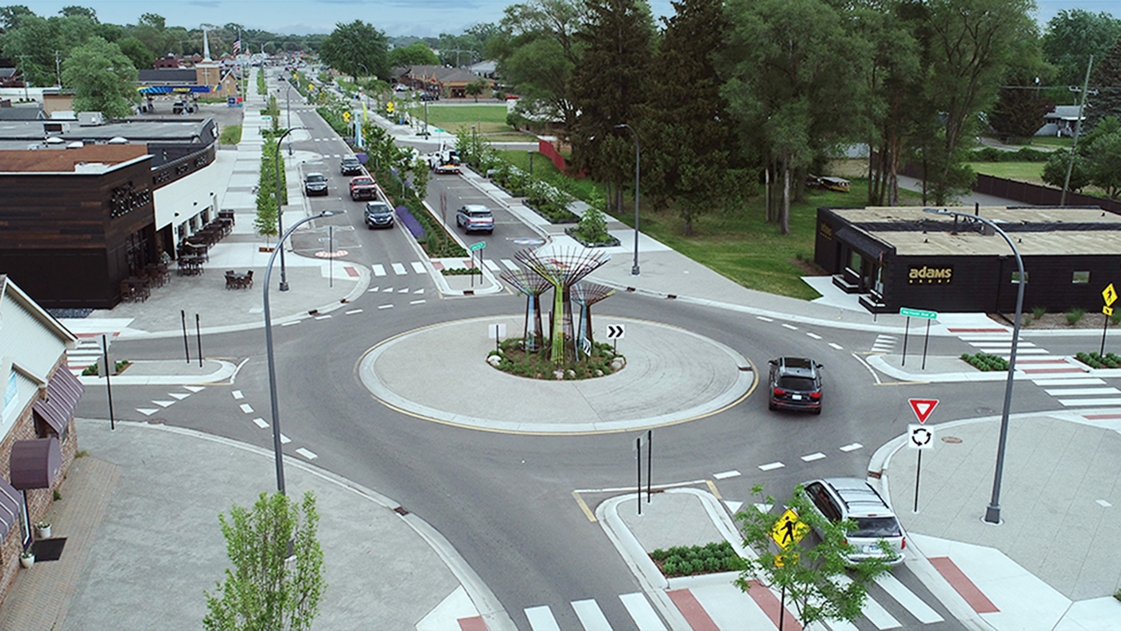 Mi-ASLA Professional Awards recognize Auburn Road Reconstruction and East Warren / Cadieux Neighborhood Framework Plan projects
The Michigan Chapter of the American Society of Landscape Architects (Mi-ASLA) has awarded OHM Advisors 2021 Professional Awards for its Auburn Road Reconstruction and East Warren / Cadieux Neighborhood Framework Plan projects.
The General Design Category Honor Award for the Auburn Road Reconstruction & Streetscape project recognizes the multidisciplinary OHM Advisors design team for its revitalization plan for The City of Rochester Hills's Auburn Road commercial corridor—once a busy east-west connection at the border of two counties until construction of the M-59 freeway led to it becoming less traveled and an overall area downturn. 
The revitalized half-mile stretch of road and streetscape sets a new precedent for the future of neighborhood redevelopment in metro Detroit and includes integrated green infrastructure, boulevard-style drive lanes, on-street parking, safer roadway crossings and pedestrian-focused design. These improvements will help to slow through-traffic, create a destination space for people to enjoy, facilitate intra-neighborhood connections, promote further redevelopment, ease environmental strain, and renew the identity of the corridor as one which can unify a community and bring people together.
The Planning and Analysis Category Merit Award for the East Warren / Cadieux Neighborhood Framework Plan recognizes the OHM Advisors team for its work with the City of Detroit and community residents in the creation of a redevelopment plan for the East Warren / Cadieux area, encompassing the neighborhoods of Morningside, East English Village and Cornerstone Village.
Grounded in input from the community, the team developed conceptual designs paired with funding strategies to address four focus areas in the neighborhood—including the rehabilitation and restoration of vacant housing, the introduction of mixed-use development at opportunity sites, a focus on parks and public spaces, and mobility improvements and streetscape enhancements to commercial corridors. The Plan was also recently recognized with a 2021 Michigan Association of Planning (MAP) Planning Excellence Award.
About Mi-ASLA:
The purpose of the Michigan Chapter of the American Society of Landscape Architects (Mi-ASLA) is the advancement of knowledge, education, and skill in the art and science of landscape architecture as an instrument of service in the public welfare. To this end, the Chapter promotes the profession of landscape architecture and advances the practice through advocacy, education, communication, and fellowship.
About OHM Advisors:
OHM Advisors is the community advancement firm. Founded in 1962, we deliver award-winning work across the architecture, engineering, and planning spheres. With offices in multiple states, our 500+ person team partners with leaders at all government levels, school districts, developers, universities, and private companies to create great places.