OHM Advisors Honored with ASLA Michigan Chapter 2022 Firm of the Year Award
Image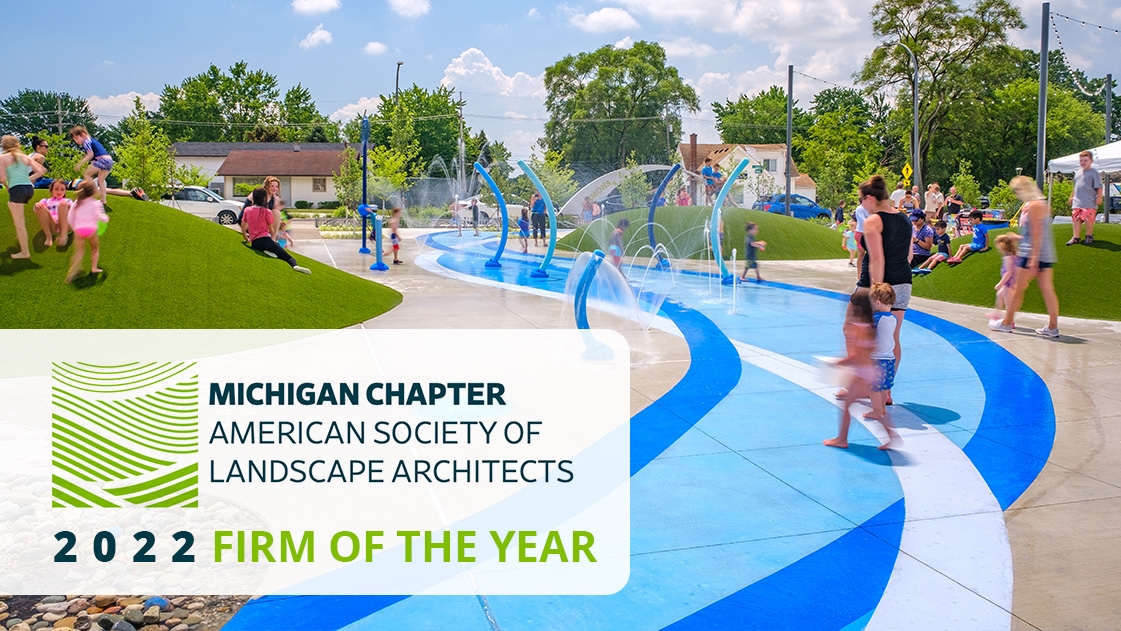 On September 29, 2022, OHM Advisors received the 2022 Firm of the Year award from the Michigan Chapter of the American Society of Landscape Architects (MiASLA) at the organization's annual conference in Lansing. The honor is given by MiASLA of its own accord as part of its yearly President's Award Series, recognizing a firm for continued outstanding design and support of the landscape architecture profession.
The recognition follows two MiASLA Professional Award wins for the firm in 2021 for projects with people-centric design approaches to community improvement. The Auburn Road Reconstruction & Streetscape project won the esteemed Honor Award in the General Design Category. This award recognized the revitalization plan and implementation of a redesigned commercial corridor in Rochester Hills that sets a new precedent for the future of neighborhood redevelopment in metro Detroit. The East Warren / Cadieux Neighborhood Framework Plan project won a Planning and Analysis Category Merit Award recognizing the OHM Advisors team for its work with the City of Detroit and community residents in the creation of a redevelopment plan for the neighborhoods of Morningside, East English Village and Cornerstone Village.
In addition to the firm's design efforts, firm president Jon Kramer and landscape architect Sarah Huddas recently joined the MiASLA Foundation in the "Over the Edge" fundraiser for its scholarship program for Black, Indigenous and People of Color (BIPOC) students in landscape architecture, rappelling 240 feet down Lansing's Boji Tower to help expand awareness of the profession to a more diverse talent field.
"This award was a surprise and a thrill," said Kramer. "It's our honor to receive it, and we look forward to continuing our relationship with MiASLA—working on even more impactful projects in Michigan and beyond and encouraging more bright and talented students to pursue landscape architecture as a career."
About MiASLA:
The purpose of the Michigan Chapter of the American Society of Landscape Architects (MiASLA) is the advancement of knowledge, education, and skill in the art and science of landscape architecture as an instrument of service in the public welfare. To this end, the Chapter promotes the profession of landscape architecture and advances the practice through advocacy, education, communication, and fellowship.
About MiASLA Foundation:
The Michigan Chapter ASLA Foundation was created to provide scholarships, grants, and aid to students from historically underserved demographics pursuing a career in landscape architecture to further their educational endeavors.
About OHM Advisors:
OHM Advisors is the community advancement firm. Founded in 1962, we deliver award-winning work across the architecture, engineering, and planning spheres. With offices in multiple states, our 650+ person team partners with leaders at all government levels, school districts, developers, universities, and private companies to create great places.