Cleveland's 'Vision for the Valley' Plan Nears Completion
Image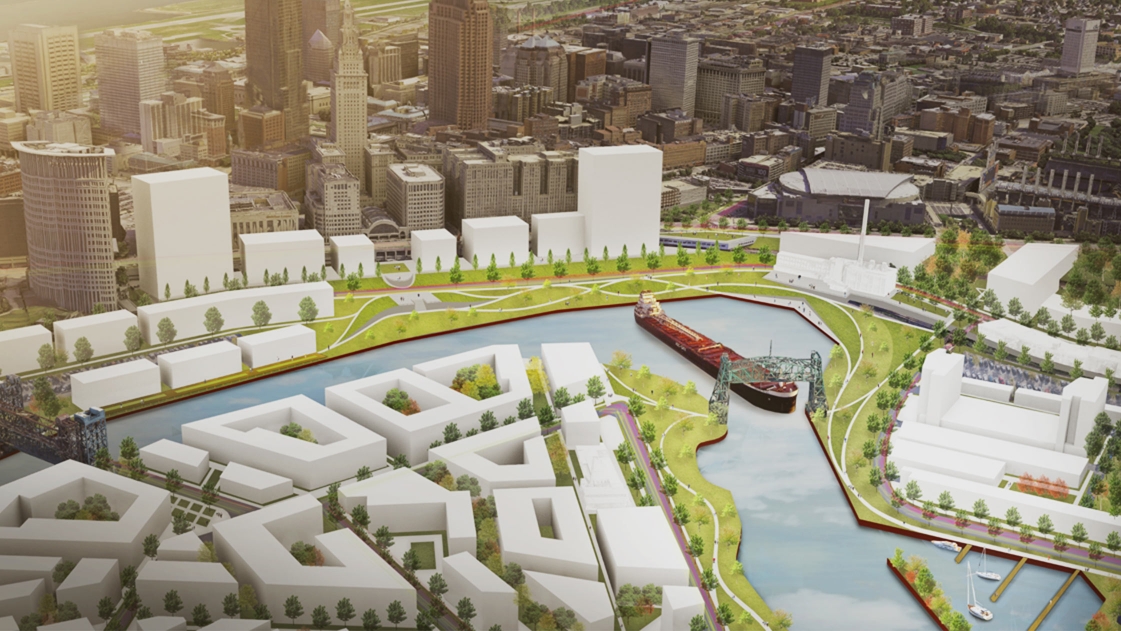 OHM Advisors' Domini and Schmidt discuss project intended to be the 'centerpiece of the Cleveland experience' in multiple media outlets
As the City of Cleveland's Vision for the Valley project has entered its final planning stages, OHM Advisors' project experts have appeared in multiple news outlets to discuss the year-long plan process and their excitement about its vision for the City.
The project launched in June 2019, when the City of Cleveland, Cleveland Metroparks, the Port of Cleveland, Flats Forward, and the Northeast Ohio Areawide Coordinating Agency (NOACA) partnered with OHM Advisors and its consultant team to develop a cohesive plan reimagining the Cuyahoga River Valley. Since then, the combined "One Team" has worked to unite interested agencies, organizations, businesses and community members in a common purpose to design a plan that balances both river and land-based uses in the river valley and outlines a sustainable vision for its future growth.
In over 1,000 interactions with the public and key stakeholders—complicated by challenges presented by the COVID-19 pandemic—the team, led by OHM Advisors Project Manager Matt Hils, gathered vital feedback and ideas to shape the plan recommendations. The plan was presented to the public for feedback in multiple virtual meetings this month and could be reviewed and adopted by the city's planning commission by early fall.
Principal Aaron Domini and Senior Planner Arthur Schmidt IV have appeared in local media outlets including Cleveland.com news, 90.3 WCPN ideastream and Spectrum News over the last several weeks to discuss the plan as the city unveiled it to the public for its last rounds of public comment.
Developers have lots of ideas for the river valley and projects will likely span the next several decades, but Domini tells ideastream that the plan at its core is meant to ensure public space and public access to it.
"It really sets the guide for future investment," Domini said. "And it allows the city and the other project partners to have a defensible platform from which to create that direction."
See Arthur Schmidt on Cleveland's SpectrumNews1
Listen to Arthur Schmidt and Aaron Domini on ideastream
Read more about the plan's 'First Look' on Cleveland.com news
About OHM Advisors:
OHM Advisors is the community advancement firm. Founded in 1962, we deliver award-winning work across the architecture, engineering and planning spheres. With offices in multiple states, our 500+ person team partners with leaders at all government levels, school districts, developers, universities and private companies to create great places.