Inaugural Diversity Scholarship Recipients Honored
Image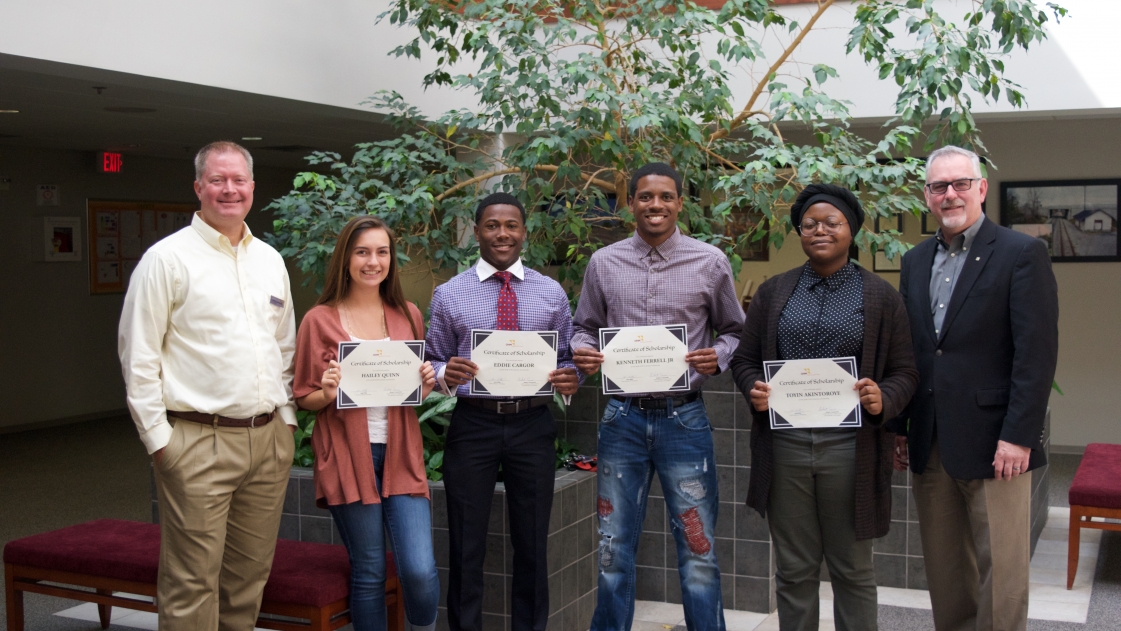 OHM Advisors recognizes four deserving students with first-ever STEM scholarships
In 2018, OHM Advisors created a scholarship program to award $5,000 to qualified women and minorities who are currently enrolled, or planning to enroll, in a STEM program or related practice of the firm.
Robert Czachorski, PE, a principal delegated to lead a task force dedicated to increasing workplace diversity, introduced the exemplary scholarship recipients during a June 14 celebratory ceremony in the Livonia, MI office.
Each recipient was awarded a $1,250 one-time scholarship toward collegiate studies in the 2018-'19 academic year. All recipients are also performing internships this summer at OHM Advisors; a factor independent of scholarship selection.
"As a firm, we recognize that diverse talent in our organization can drive innovation. For diversity and inclusion programs to succeed, we also must fill workplace gaps with highly skilled staff. This scholarship program is just one of the many ways we seek to support the next generation—simultaneously aligning with our own diversity initiative—by cultivating talent, skill and ability in the workplace," remarks Czachorski, a longtime cultivator of forward-thinking innovation.
OHM Advisors is pleased to announce the following scholarship recipients:
Hailey Quinn | University of Michigan
Hailey is a recent 2018 graduate, attaining top honors from Livonia Franklin High School in Livonia, MI. She will study Computer Science at the University of Michigan in the fall, a career choice cemented by her high school internship in OHM Advisors' IT team during her senior year of high school. Hailey will continue her IT department internship throughout the summer.
Eddie Cargor | Tennessee State University
Eddie is studying Civil Engineering at Tennessee State University (TSU). A 2017 graduate of Lincoln High School, located in Ypsilanti, MI, he is a member of the American Society of Civil Engineers, National Society of Black Engineers, and a TSU men's center ambassador. Eddie is an intern with the firm's Surveying group in the Livonia, MI office this summer, transitioning to an internship in the Nashville office during school term.
Kenneth Ferrell Jr. | Eastern Michigan University
Recently graduating from Lincoln High School in early June, Kenneth will pursue studies in Environmental Sciences at Eastern Michigan University this fall. A committed student and dedicated community member, Kenneth is member of Key Club, Link-Crew, and the National Honor Society, and a frequent volunteer at Growing Hope Center. He interns in the Surveying group based out of the Livonia office.
Toyin Akintoroye | Wayne State University College of Engineering
Toyin is studying Electrical Engineering at Wayne State University. A 2017 graduate of Detroit Cass Tech, she was on her high school robotics team where she became the lead programmer by senior year. Toyin is currently an intern in the firm's in the Municipal group, working from the new downtown Detroit office.
"By helping the best and brightest students launch their careers, we are laying the foundation for a truly world-class workforce," president John Hiltz comments. "This program offers a tremendous step forward for these students, supportive of our goal to encourage more young, diverse talent to enter STEM fields. I am extremely proud to launch the Diversity Scholarship Program this year, and I encourage all eligible students to apply in the future."
The recipients were selected from amongst 20 applicants who met the following criteria:
Must be a woman or a minority
Open to high school seniors through College juniors
Must enroll in a STEM program in college for the following year
Must have a cumulative GPA of 3.0 or higher
Must write an essay on "Why STEM" and how OHM Advisors can help
L to R: Robert Czachorski, Hailey Quinn, Eddie Cargor, Kenneth Ferrell Jr., Toyin Akintoroye, John Hiltz
About OHM Advisors:
OHM Advisors is the community advancement firm. Founded in 1962, we deliver award-winning work across the architecture, engineering, and planning spheres. With more than 500 employees in offices throughout Ohio, Michigan, and Tennessee, our team partners with leaders at all levels of government, school districts, developers, universities, and private companies to create great places.