Christine Spitzley: Meet our Experts Series
Image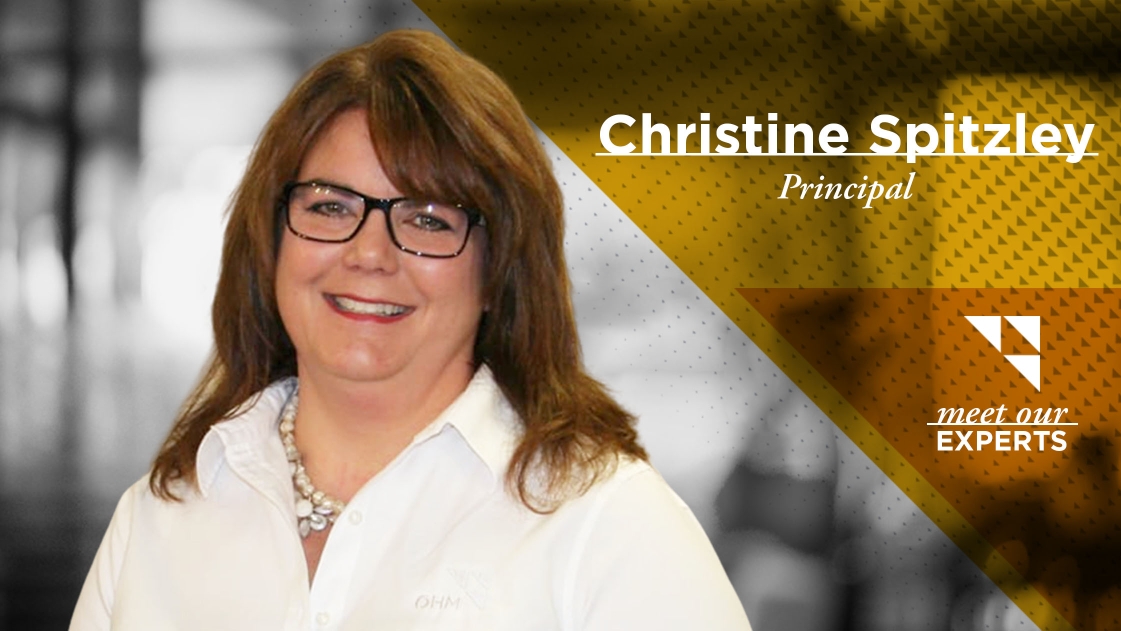 Quick Facts about Christine
Title: Principal
Office Location: Livonia, MI
Years in the Industry: 32
Most Recent Gig: 26 years at Michigan Tri-County Regional Planning Commission
Fun Fact: Created a Children's Water Festival that hosted 40,000 students over 20 years
We chatted with Christine about her unique role as a liaison between Engineering and Planning, tips for newbies, and professional "speed dating."
Why Planning? What would you be doing professionally, if not that?
The fun, true story is that as a college sophomore I had to declare a major—which at the time involved looking through the school's printed books with programs, majors and requirements. As my friends and I were exploring them, I said, I'm going to drop it open and at least give a strong look at whatever it lands on." The book I dropped fell open to Planning and I had all the prerequisites and GPA. I called the program director the next morning and learned that not only did it have 100% job placement, but that I could study abroad in Tokyo. I declared as an Urban and Regional Planning major and after that everything fell into place.
I have lots of interests and often ponder what I'd do if not Planning—most recently stonemasonry, agricultural tourism and painting restoration have piqued my interest. But rocks are heavy, I don't own a farm, and chances are high that I'd put my elbow through a Renoir!
What led you to your specialty area focus in water resources?
I was working as a regional transportation planner and an opening came up to lead the environmental department. Most of my early work was funded by a 7-year grant from the WK Kellogg Foundation Groundwater Education in Michigan program. It allowed me to build and lead regional source water and education programs and introduced me to a huge network of water professionals across Michigan and the U.S.
What professional advice would you give your younger self?
Take the time and work to proactively think through a project—including what success will look like and how you'll get there. But also consider what could go wrong. Ask a peer or mentor to walk through your plan for possible glitches and opportunities to improve. Remember that it's okay for plans to change and evolve.
Tell us about an item on your bucket list.
Own a cottage on one of the Great Lakes where I can watch freighters glide across the water.
What's one of the most interesting projects you've ever worked on?
The Michigan ByProduct Synergy Program, which matched undervalued waste or byproduct streams from one facility with potential users of them at another. The recycling or reuse of byproducts creates new revenues or savings with efficiency breakthroughs by bringing together companies and organizations of all sectors and sizes to develop multi-stakeholder solutions. I got to work with innovators at a foundry, zoo, hospitals, universities, utilities, food processors, farms, landfills, and medical, chemical and automotive manufacturers. Every successful match was a win for the environment and the economy.
The most rewarding professional development project I've worked on is collaborating 15 years ago to create the Women on Water Networking Event at the MI-AWWA annual conference. The goal was to support and provide networking opportunities and mentors for women in water—who at the time, made up a very small percentage of industry professionals and didn't see themselves represented. The relationship-building has been phenomenal—once we did a "speed dating" event that matched young and seasoned professionals for 2-minute chats. It was a big hit!  
What are you most looking forward to in the future for your industry?
To a time when the luxury of having safe water on tap is truly valued. 
If you could have coffee with one person of any past or present generation, who would it be, and why? 
My great-grandfather. He immigrated to the U.S. from Hungary through Ellis Island.  He worked as a cowboy in Arizona, cab driver in New York, miner in Pennsylvania and finally settled in Detroit where he owned a gas station. When the Great Depression hit, he sold it and bought a farm in southern Michigan where I grew up.  He died when I was 12 and I have lots of questions for him.
Read more about Christine and the work she does for OHM Advisors, the Michigan Section of the American Water Works Association and the water resources industry.