Dan Fredendall Receives ACEC Michigan's Vernon B. Spalding Leadership Award
Image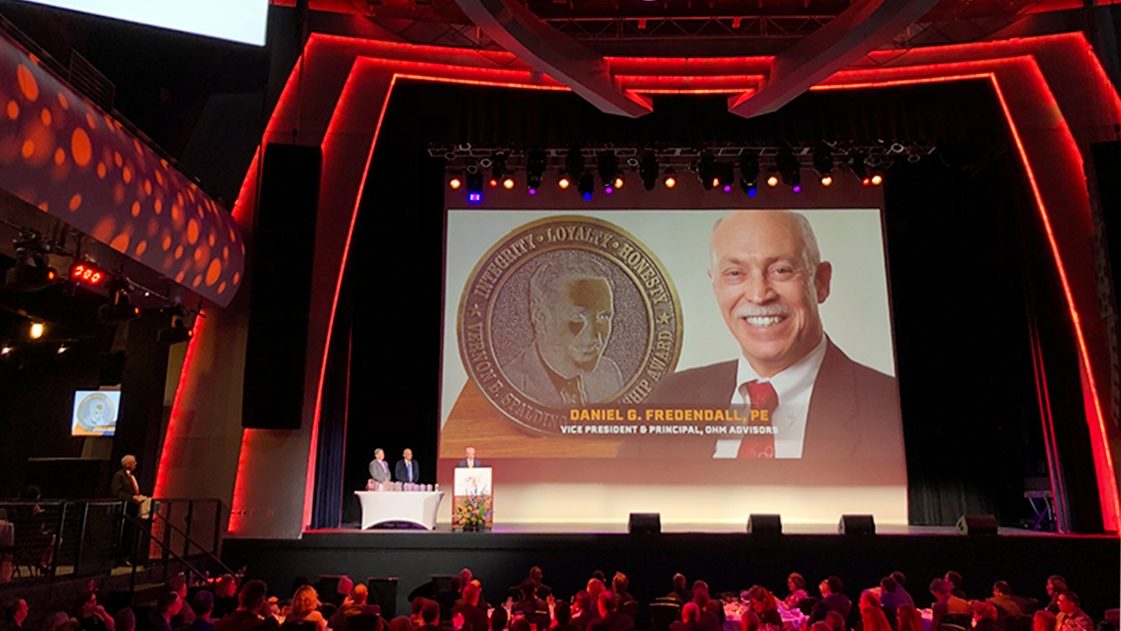 On March 2, 2019, at the 54th Annual ACEC Michigan Engineering & Surveying Awards Gala, OHM Advisors' Dan Fredendall received the prestigious 2019 Vernon B. Spalding Leadership Award in honor of his significant contributions as an industry leader.
A Vice President and former Chairman of the Board at OHM Advisors and 40-year professional engineer, Fredendall is highly respected by his industry colleagues for his professional expertise and unmatched perspective regarding state infrastructure issues across the public and private sectors. His passionate advocacy for the engineering profession and the issues it faces in ever-changing economic and political climates is reflected by his active service as a leader at local, state and national levels within multiple professional and educational organizations. He is a past president of both ACEC Michigan and ASCE, Southeastern Branch, Michigan Section.
Currently, he serves on the Design Professionals Risk Control Group (DPRCG) Board of Directors and the Michigan Infrastructure Council, where he is one of nine appointed experts tasked with developing a strategic, comprehensive, long-term investment and management strategy for Michigan's infrastructure assets.
In his executive leadership role at OHM Advisors, Fredendall monitors legislation that affects the industry and the firm and serves as an example to staff of how involvement can affect positive change in the industry. John Hiltz, President of OHM Advisors, commented that "Dan has been an excellent mentor to the firm's next generation, encouraging them to become involved in and support professional boards and committees." Fredendall's deep commitment to future generations of industry professionals extends even further, to his involvement with his alma mater, Michigan State University, where he served for four years on the Civil and Environmental Engineering Department's Advisory Board, and to Lawrence Technological University, where he is a Civil & Environmental Engineering Department Advisory Board Member Emeritus.
ACEC Michigan also recognized OHM Advisors with a 2019 Engineering Merit Award for the Rogell Drive Reconstruction at Detroit Metropolitan Airport. The multidisciplinary project team of engineers and planners across the firm's transportation, landscape architecture and construction engineering disciplines delivered a reconstructed airport entrance for the Wayne County Airport Authority, vastly improving traffic flow and expanding boulevard space for the international airport's 35 million passengers per year.
About OHM Advisors:
OHM Advisors is the community advancement firm. Founded in 1962, we deliver award-winning work across the architecture, engineering, and planning spheres. With more than 500 employees in offices throughout Ohio, Michigan, and Tennessee, our team partners with leaders at all levels of government, school districts, developers, universities, and private companies to create great places.