Tackling a Natural Disaster: UAS and GIS Technology Delivers Data Three Times Faster
Image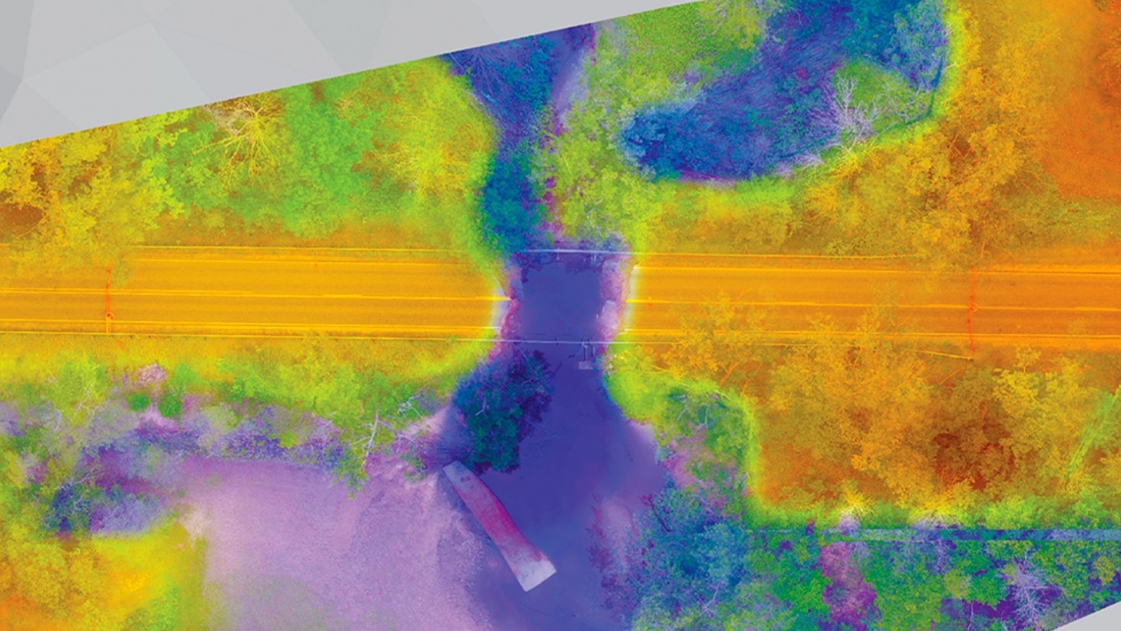 Small unmanned aircraft system technology (UAS), commonly called drones, are gaining in popularity not only among the general public and consumers, but also among professionals working in the AEC industry.
At OHM Advisors, we now have 16 FAA Certified UAS pilots across our 15 offices. As of now, we have 155 project-related flights since our program began in May 2017, and steadily growing.
Combined with Geographical Information Systems (GIS), UAS can have an even greater impact on quality and efficiency.
UAS and GIS images aid in recovery after flooding disaster
After historic rainfall and flooding in 2017 caused almost $7 million in damage to the roads and bridges of Midland County, Michigan Lieutenant Governor declared a state of disaster. From sinkholes to missing sections of roadway, the rain and high water affected 105 roads and caused culvert and bridge damage in multiple locations—limiting access to sections of the county.
With major roadways closed, travel time significantly increased, and residents had to find alternative routes to services. County officials were concerned about the region's residents and wanted to start infrastructure repairs quickly so that emergency vehicles could get where most needed. OHM Advisors' survey team's job was to get data to the people responsible for infrastructure solutions as quickly as possible to minimize the impact on the residents by documenting the storm's impact on roads and bridges—areas that weren't easily accessible by vehicle or on foot.
Using the UAS images, OHM Advisors' team created detailed maps of the terrain and conditions and captured birds-eye footage of eroded bridges, jammed culverts, and destroyed roadways with photo and video. Having this level of detail at their fingertips helped the design engineers and Road Commission make informed decisions about restoration more quickly.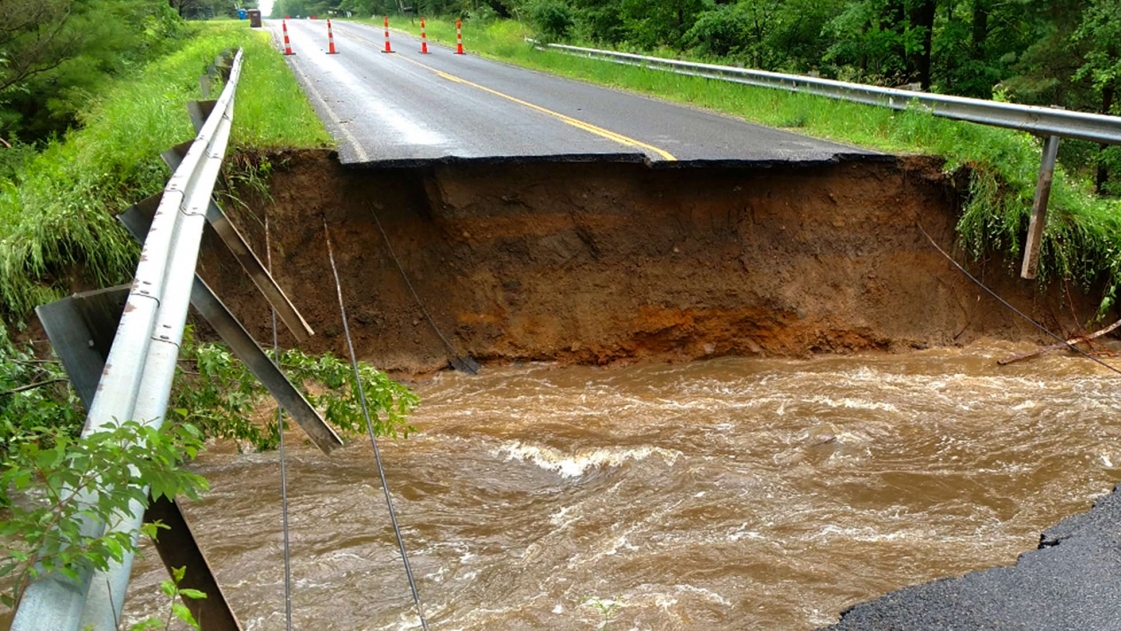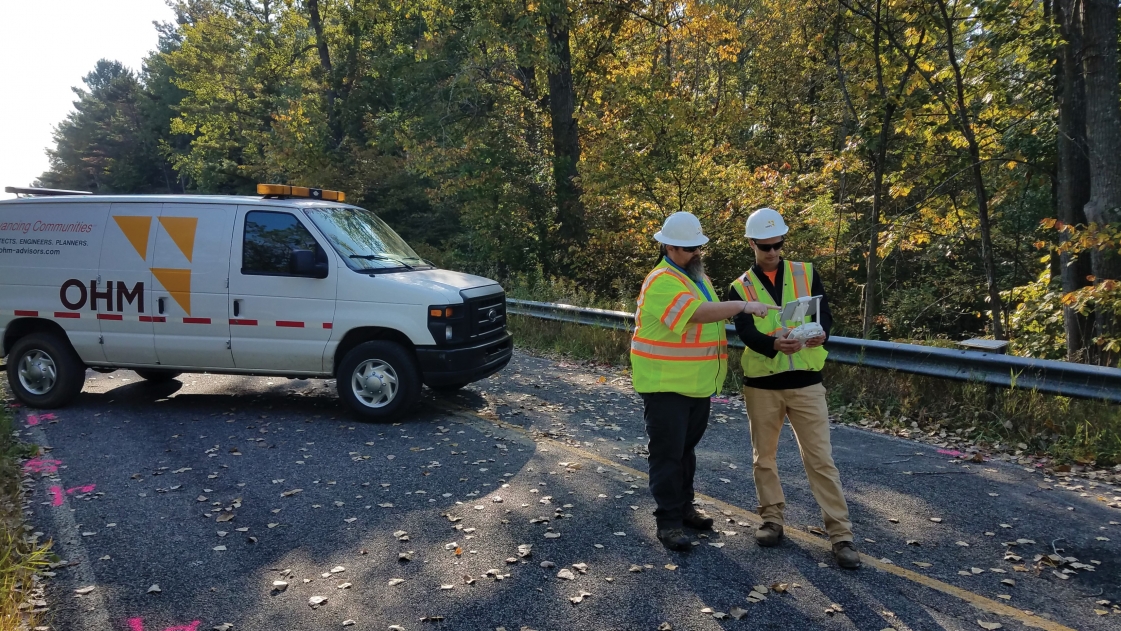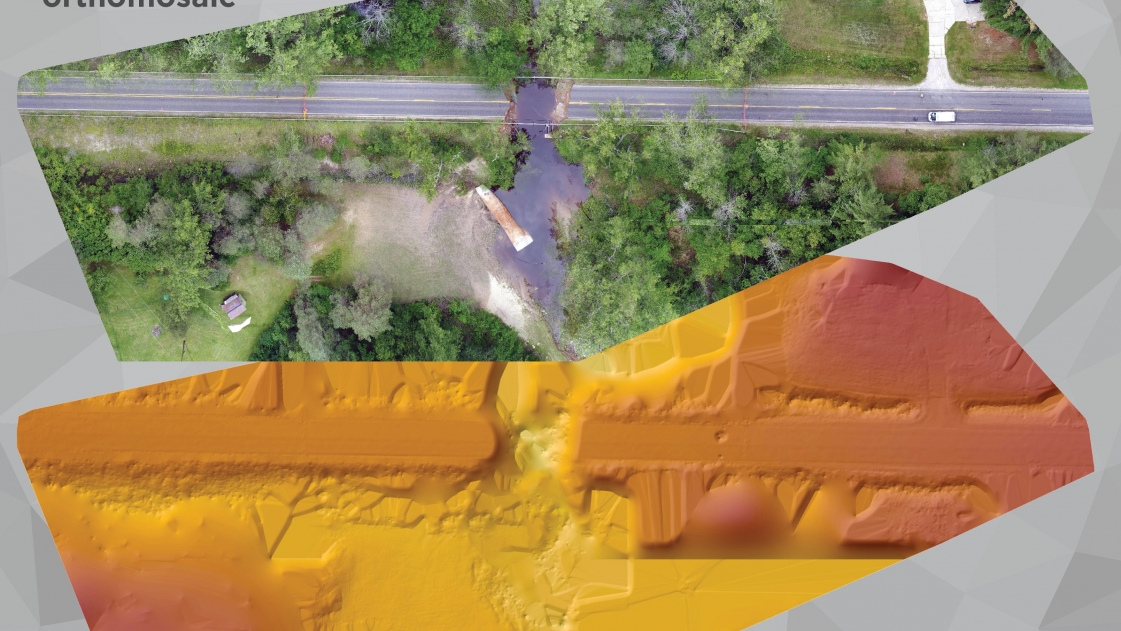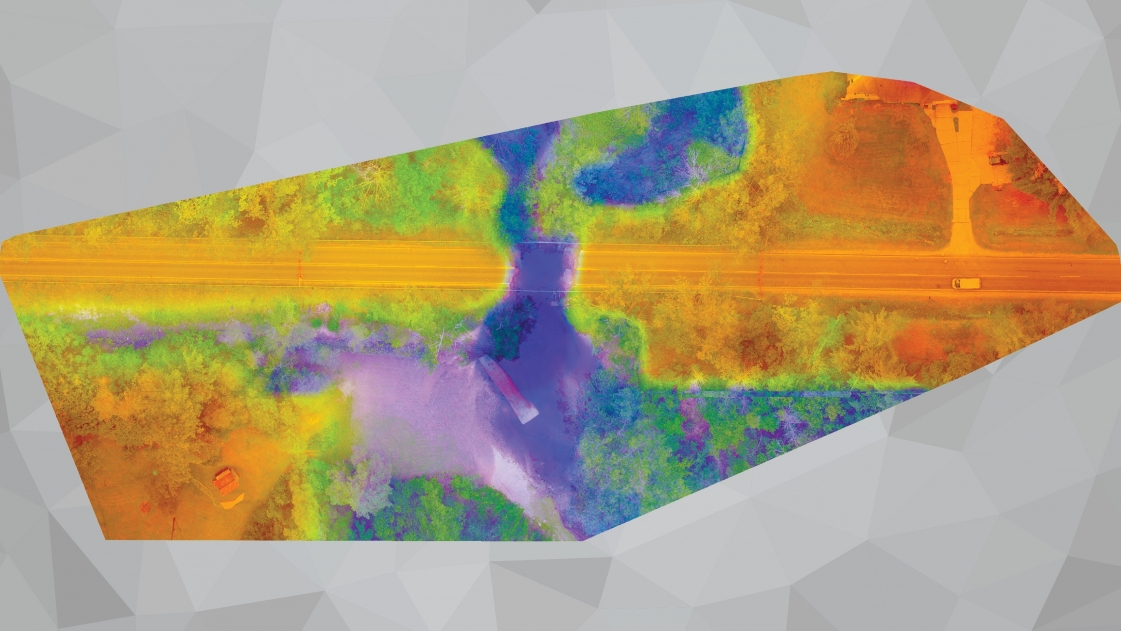 UAS technology offers many advantages
Using drone technology has three major benefits over traditional surveying methods:
Safety – UAS technology provides a safer means to inspect dangerous areas like under bridges, the edges of crumbling roadways, or near high waters with floating debris. This is because operators can stand at a distance from unsafe areas to collect imagery instead of taking their equipment into a constricted space with water, open manholes, and uprooted trees.
 
Speed – With traditional methods, surveying nine sites would typically take nine days or one day per site. After the initial data collection in the field, there's typically another week required to process that data in the office. From start to finish, this project took just five working days—three times faster than typical surveying. The rapid turnaround put critical information in front of the engineering design team right away, which allowed them to prioritize and address infrastructure repairs more quickly.
 
Quality – The ability to fly lower than manned aircraft often results in higher quality data. Additionally, because UAS mapping captures more data than traditional surveying (millions of points versus a few hundred of points for these projects), surface models are more detailed. With UAS, operators can capture elevations not possible with traditional survey, as well as quickly and accurately calculate items such as the amount of earth to be replaced in eroded areas.
Flooding is the most common and costly natural disaster in the country, so communities and consulting firms need to react quickly to minimize damage to the economy, the environment, and people. Using relatively inexpensive UAS technology and GIS software is a better way to gather storm damage information.
AEC industry finds many benefits of drones
Drone technology can assist many practices including architecture, landscape architecture, planning, survey, transportation, and more. For example, obtaining aerial mapping, photography, and video. Here are just a few uses for our UAS technology:
Topographic mapping for ALTA surveys, site design, watershed analysis, and traffic signal/intersection improvements
Construction quantity estimates
Pre and post construction conditions
Project promotional videos
Base photography/videography for rendering overlays to showcase design intent
Inspection and/or assessments of bridges, building facades, roofs, MEP/HVAC systems, pipelines, solar farms, wind turbines, streetscapes, and streambank erosion.
From this broader perspective, UAS is helping to create stronger communities. Infrastructure planning, inspection, and documentation have traditionally been managed via earthbound, costly, and labor-intensive methods. Now drones and data-crunching software are a driving force that is advancing the building, operation, and maintenance of our infrastructure.