Design for the Ages in Workplace Environments (Why Your Future Office Will Look Like Starbucks)
Image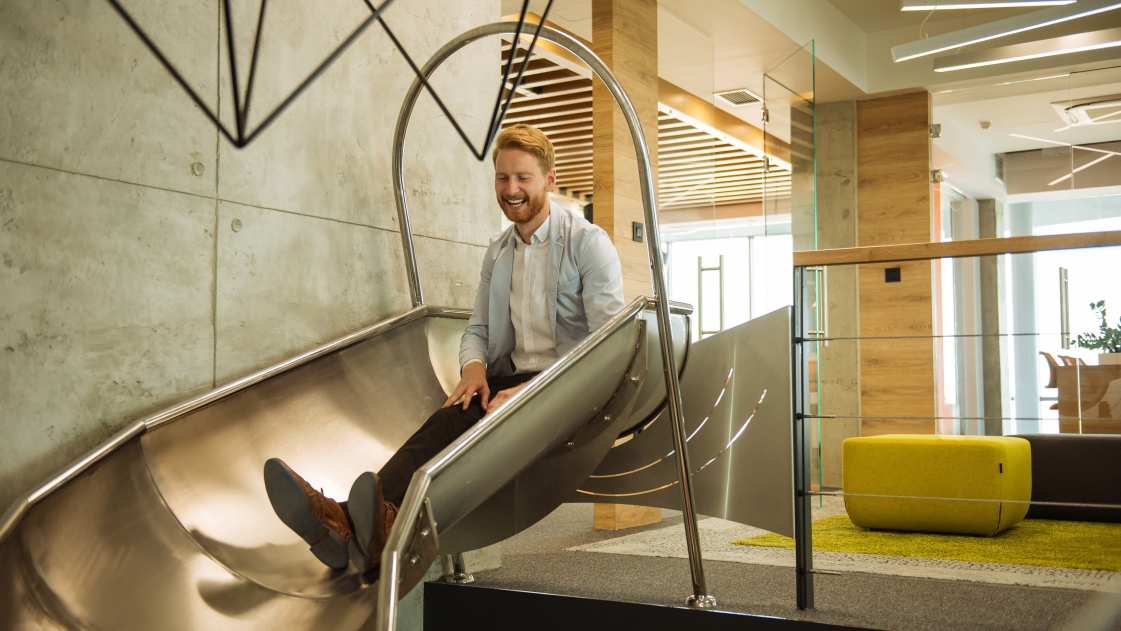 At the early part of the 20th century, office buildings reflected our industrialized roots. Today, changing work styles and the influence of startup culture and technology are shifting the workplace from hierarchical workflow to highly interactive experiences. Our new culture of connectivity, creativity, choice, and comfort is being reflected in our office spaces of the future.
In the past, office space was a location to get work done. The company provided the tools, set the work hours and the locations. Architecture reflected the workstyle and culture. Increasingly, company offices function as a home base to connect and collaborate. Employees will have greater flexibility to decide when, how, and where to work, and will not be tied to working in the office. They will flow in and out, connected by social networks and cloud computing.
The percentage of an organization's work classified as group work will continue to escalate, topping 60% around 2022. To accommodate that, spaces will continue to be more open and flexible, with mobile furniture, work pods, comfortable environments, and informal collaboration spaces. This doesn't negate the need for quiet, private focus areas within the design.
Corporate campuses designed for creativity, culture, and diversity
Cardinal Health, a $129B healthcare services company based in Dublin, Ohio, is Ohio's largest company by revenue. From the exterior, Cardinal's corporate headquarters may look like other office buildings packed with cookie-cutter cubicles. But the interior showcases a more modern approach to workplaces of the future.
Rather than tall cubicles with rows of walled offices, informal meeting areas and non-traditional workspaces create a progressive, open environment meant to inspire creative thinking. Cardinal's smaller, two-to-four-person huddle spaces (complete with integrated technology) dot the facility, encouraging collaboration and creating a sense of intimacy within the larger space.
"We want employees to use the entire building as their work area. It encourages collaboration and creativity," says Marino Colatruglio, Vice President, Global Workplace & Corporate Real Estate at Cardinal Health.
Convenience and lifestyle amenities—including a cafeteria, fitness facility, coffee shop, pharmacy, credit union, and walking paths—contribute to the "workplace as experience," trend.
In a different Cardinal Health remodel, embracing the company's diverse people was also important. Mothers' lounges were improved by designing larger suites and shared amenities all on the first floor of the building. Prayer rooms with foot-washing stations were also added. These types of spaces help create a feeling of acceptance and inclusion necessary for today's global workforce.
Meanwhile, leaders at IGS Energy, a Columbus, Ohio company which markets natural gas in six states, wanted its corporate campus environment, a 134,000 square-foot, four-story building, to facilitate a culture of family and connection inside the workplace.
The building houses nearly 500 employees. Designed to encourage teamwork, with a focus on environmental and energy efficiency, IGS' headquarters is Platinum LEED® (Leadership in Energy and Environmental Design) certified—the highest of the four LEED certification ratings.
The IGS management team wanted the headquarters to foster a social dimension. We've moved from office as a building to workplace as an experience, an environment to foster the idea of community and brand. As designers, we try to get at a company's culture, then we design space to support that culture.
Designing the future
Looking forward, what impact will the future generations have on workplace design? We're now witnessing the birth of Generation Alpha, which began around 2010, when Millennials started having children. Alphas will be the first generation born entirely in the 21st century and will number almost 2 billion by 2025.
Mark McCrindle, a generational researcher interviewed in the New York Times says Alpha will be "the most formally educated generation ever, the most technology supplied generation ever, and globally the wealthiest generation ever."
Alpha will be the first generation to have a hand-held computing device as standard. However, it's too soon to know all the ways they will influence workplace design. Instead, we should design 10 years in advance. Anything beyond that is too susceptible to change due to technology. It's something we at OHM Advisors are fascinated by and will continue to monitor.