I-75/University Drive DDI, Great Lakes Water Authority Make Long List of OHM Advisors' Project Wins from APWA Michigan
Image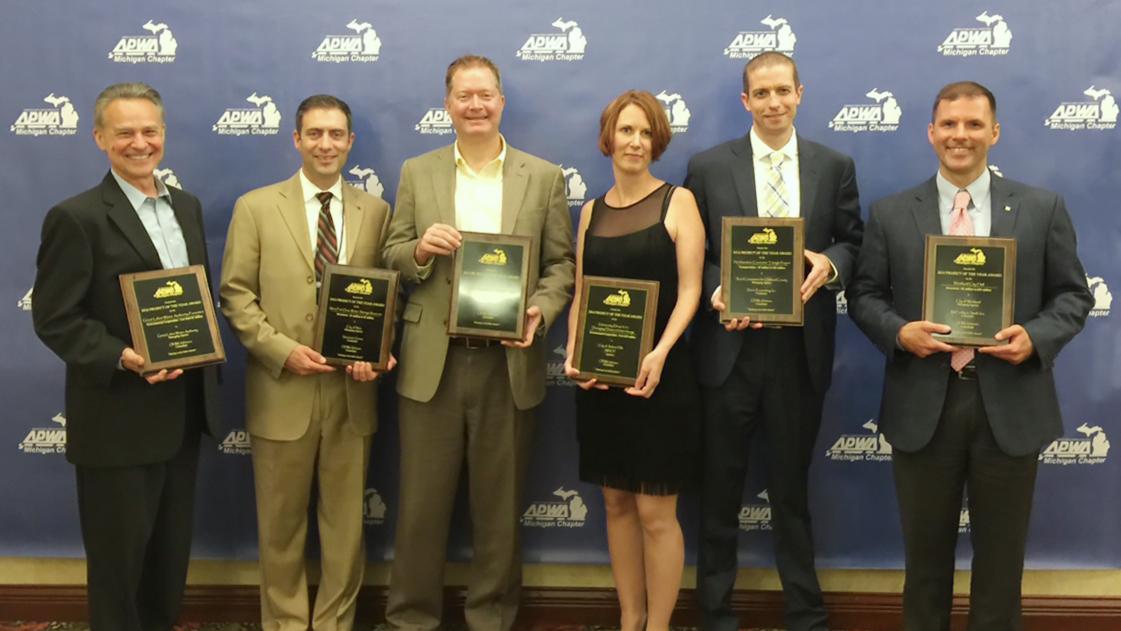 Honored by APWA for various major projects
On Thursday, May 26, OHM Advisors was honored at the Michigan Chapter of American Public Works Association's Annual Conference at the Grand Traverse Resort in Acme, Michigan.
The following five projects were among the 17 honored at the event as Project of the Year for 2016:
Great Lakes Water Authority Formation, Governmental Cooperation
The Great Lakes Water Authority was designed to leverage the assets of the Detroit-owned water and sewerage systems. Governed by a six-member board with representation from the city of Detroit, Oakland County, Macomb County, Wayne County, and areas outside these counties appointed by the state of Michigan, the new regional water authority is leasing the assets from the City of Detroit for $50 million per year for the next 40 years.
University Drive/ I-75 Diverging Diamond Interchange, Transportation 
The DDI demonstrates how a transformative transportation solution can provide sweeping economic benefits and improve traffic in a fast-growing region.
The results are evident and have received numerous awards from other organizations including:
Honorable Conceptor Award by ACEC Michigan
Outstanding Civil Engineering Project of the Year by ASCE Southeastern Branch
Outstanding Civil Engineering Project of the Year by ASCE Michigan
West Park Drive Water Storage Reservoir, Structures
The West Park Drive Water Storage Reservoir and Pumping Station Modifications project was created to reduce the rate that the City of Novi will pay for its bulk water purchases.  The reduction in the cost of purchased water will allow the City to significantly mitigate the water rate increases that have been occurring annually.
Westland City Hall, Structures
The transformation of a drab structure resulted in a brand new, 64,000 square-foot City Hall for the City of Westland. Relocating municipal operations, including those not housed at the former city hall, to the new Warren Road site provides a convenient "one-stop shop" for residents and businesses and create operational efficiencies with all administrative offices housed in the same facility.
This project has also been recognized by the Michigan Municipal League as a Community Excellence Award winner.
Northwestern Connector Triangle Project, Transportation
The Northwestern Connector Triangle provides better connectivity between two state highways (M-5 and M-10), alleviates traffic congestion and improves safety in a local area in Oakland County known as the "triangle".  Additionally, this project received the Honorable Conceptor Award by ACEC Michigan.
We are proud of these award-winning projects and being recognized for our passion to advance communities.
About OHM Advisors:
OHM Advisors is the community advancement firm. Founded in 1962, we deliver award-winning work across the architecture, engineering, and planning spheres. With offices throughout Ohio, Michigan, and Tennessee, our team partners with leaders at all levels of government, school districts, developers, universities, and private companies to create great places.