OHM Advisors Ranks Among Nation's Top 500 Design Firms
Image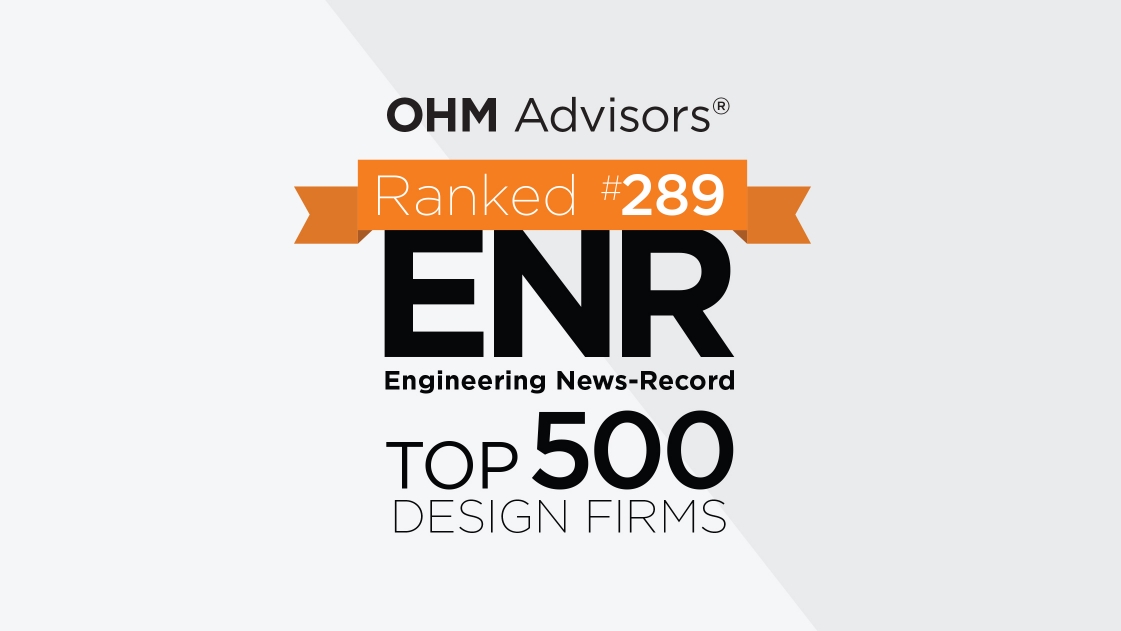 OHM Advisors recognized as one of the country's foremost A/E firms as it advances 11 spots in annual Top 500 Design Firms list
OHM Advisors is proud to announce its steady climb up the Engineering News-Record (ENR) Top 500 Design Firms list. The recently released 2017 list ranks OHM Advisors at 289—the highest ranking in firm history. Previous rankings included 301 on the 2016 list, 340 in 2015 and 407 on the 2014 list.
This annual list, published by Engineering News-Record Magazine, ranks U.S. firms based on their revenue for design work in the previous year. Firms across the country are classified by discipline, including architecture, engineering, contracting, planning, geotechnical and various combinations therein. ENR classifies OHM Advisors as architecture and engineering.
"Being named to the ENR Top 500 Design Firm List is always a great honor," said John Hiltz, P.E., president of OHM Advisors. "The year-over-year increases illustrate the hard work of our client-focused staff whose dedication to Advancing Communities and providing innovative solutions continues to move our firm forward."
The firm attributes many reasons for continuing its advance in the Top 500 list. This level of revenue growth is achieved by thinking differently and always looking forward with a holistic perspective.
A business strategy squarely focused on putting people first—clients, their communities and OHM Advisors' own multidisciplinary staff—has enabled OHM Advisors to maintain long-lasting relationships with clients and expand both service offerings and regional presence across the Midwest.
ENR also publishes region-specific lists, including the Midwest Top Design Firms, where OHM Advisors ranked 26 in 2016. On the list segmented by state, OHM Advisors' revenue earned a top five ranking in Michigan.
About Engineering News-Record:
Engineering News-Record, published by McGraw Hill, is the leading weekly trade publication focusing on the construction industry. The ENR Top 500 Design Firms list is published annually and is available online at www.enr.com. ENR Midwest is a regional edition of ENR and is also published online and in print by McGraw Hill. The ENR Midwest Top Design Firms list is also published annually and is available at www.enr.com/midwest.
About OHM Advisors:
OHM Advisors is the community advancement firm. Founded in 1962, we deliver award-winning work across the architecture, engineering, and planning spheres. With offices throughout Ohio, Michigan, and Tennessee, our team partners with leaders at all levels of government, school districts, developers, universities, and private companies to create great places.