OHM Advisors Announces Newest Shareholders
Image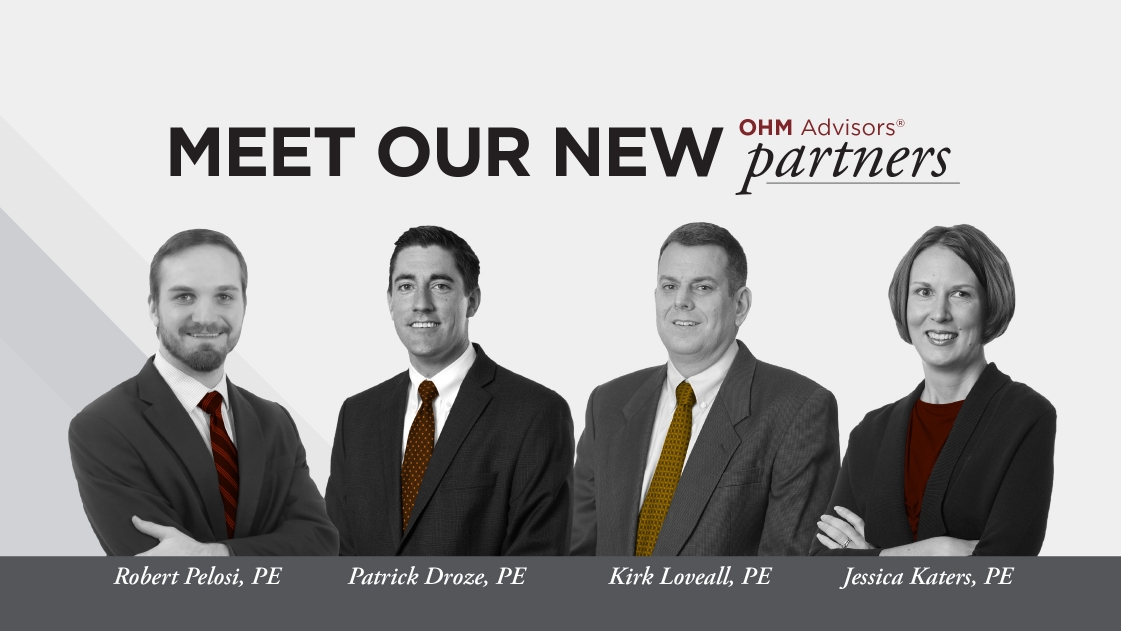 Four new partners committed to Advancing Communities join firm's group of shareholders
At the December 7, 2017 shareholders meeting, partners in the community advancement firm elected four new mission-driven shareholders to the ranks of OHM Advisors' owners.
The new shareholders, nominated from among the firm's many outstanding professionals, represent a range of disciplines, experience levels, and specialties. Each is recognized for their contributions within the firm, and their disciplined service to clients and colleagues.
"I'm proud to welcome this group of highly competent and dedicated leaders who have demonstrated their deep commitment to our profession, our clients, and the future of our firm," OHM Advisors Board Chairman James Houk comments. "These individuals have proven themselves to be leaders in our firm, and exemplify the technical and leadership qualities we look for in a shareholder."
Jessica Katers, PE | Livonia, MI
Project Manager, Municipal Engineering
Commencing her professional career nearly 20 years ago as an intern, Jessica Katers, PE has been a pillar of exceptional client service with some of the firms' oldest and largest municipal accounts. A highly accomplished professional, Jessica adeptly balances career, family and industry organization commitments. She also illustrates a passion for developing the next generation of engineers and ensures staff growth remains a cornerstone of the firm's culture.
Her commitment to the profession extends beyond firm walls, where she had made a name for herself within the American Public Works Association (APWA). Jessica currently chairs both the Great Lakes Expo and the awards program for the Michigan chapter, after twice serving as president of the Detroit Metro branch. Since 2012, she also has served as chairperson of the Michigan Chapter of APWA Public Works Project of the Year Awards competition. Jessica is a graduate of the University of Michigan College of Engineering.
Kirk Loveall, PE | Livonia, MI
Director, Site Design Group
Kirk Loveall, PE, has more than 23 years of design and construction experience working with both public and private clients in site development, structural analysis and design, and project delivery. As OHM Advisors' site design group director, he guides the firm's site and land development teams in the successful delivery of hundreds of large-scale, multi-million dollar development projects on behalf of private clients and public municipalities.
Kirk has built a reputation for successfully managing challenging projects with exceptional challenges and complicated schedules, resulting in some of the firm's highest client ratings. He is a graduate of the University of Michigan with degrees in both Architecture and Civil Engineering.
Patrick Droze, PE | Detroit, MI
Project Manager, Municipal Engineering
Patrick Droze, PE started his career with OHM Advisors more than 15 years ago as a high school student intern, continuing his work with the firm while earning a B.S. in Civil Engineering from Michigan State University. Patrick has earned the reputation as a trusted advisor who consistently delivers innovative solutions for his clients in the firm's municipal engineering division—and as a reputable stormwater expert. Patrick is acknowledged for his leadership skills and ability to plan, organize, coordinate, and implement engineering solutions of considerable complexity and diversity.
In addition to partnering with the firm's municipal clients, Patrick has also been engineering an unwavering dedication to Detroit's revitalization. He has proved instrumental in establishing the firm's downtown Detroit office. Patrick is a regular supporter of local Detroit community improvement programs, is actively engaged with several professional organizations, and serves as a volunteer tour guide with Preservation Detroit.
Robert (Bob) Pelosi, PE | Nashville, TN
Manager, Municipal Engineering
Bob Pelosi, PE is a multi-talented civil engineer who has skillfully established himself as an expert in municipal engineering, transportation design, and private development. OHM Advisors has big ambitions for the middle Tennessee market that undoubtedly will be achieved by leveraging Bob's broad experience, deep-rooted expertise and quiet leadership capabilities.
Identified as one of the firm's rising stars, Bob is a graduate of both OHM Advisors Grad School—a focused 12-month curriculum that prepares OHM Advisors' next generation of leaders—and LeaderEase—a leadership training program with a comprehensive approach to professional and personal growth. He is recognized for his efforts helping build a reputation for excellence in the Nashville, TN market, adeptly serving major transportation and municipal clients. Bob is a graduate of the University of Kentucky, where he earned a B.S. in Civil Engineering.
About OHM Advisors:
OHM Advisors is the community advancement firm. Founded in 1962, we deliver award-winning work across the architecture, engineering, and planning spheres. With more than 500 employees in offices throughout Ohio, Michigan, and Tennessee, our team partners with leaders at all levels of government, school districts, developers, universities, and private companies to create great places.