Newark, OH Downtown Revitalization Project Recognized as ASHE Project of the Year
Image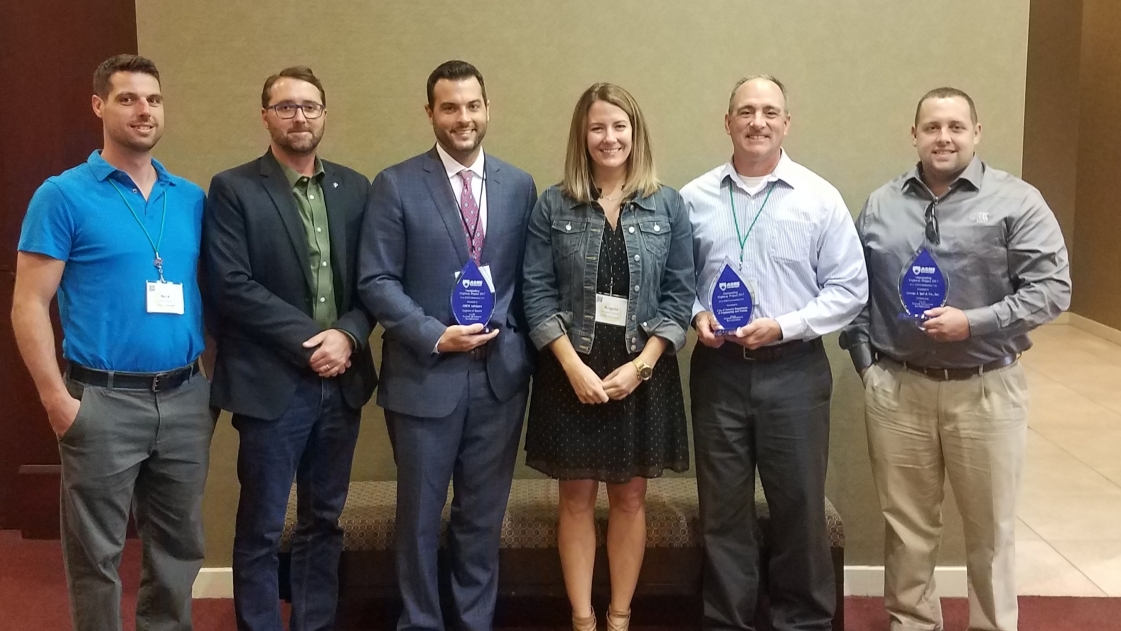 OHM Advisors wins ASHE Great Lakes Region Project of the Year for innovative approach transforming community downtown.
The Great Lakes Region of the American Society of Highway Engineers (ASHE) recognized OHM Advisors and its project partners from the City of Newark, Ohio, and George J. Igel, Inc. as the region's Project of the Year. The top award for the Over $5M category honors the Newark, Ohio Downtown Revitalization project, an innovative approach that transformed a public infrastructure project into a community advancement opportunity. The award is the latest of several awards - including the American Council of Engineering Companies (ACEC) of Ohio Honor Award.
ASHE Great Lakes awarded the team the prestigious award at its annual luncheon during the Ohio Transportation Engineering Conference (OTEC), Ohio's premier engineering conference. The project will be considered for the National Project of the Year competition, which will be announced at the ASHE Annual Conference in Nashville in May, 2019.
The Downtown Newark Revitalization Project began as a multi-million dollar sewer separation, driven by a federal Environmental Protection Agency mandate to reduce combined sewer overflows. Taking a holistic approach, the project team capitalized on the underground infrastructure improvements to upgrade the above ground infrastructure and re-think the entire downtown environment.
A downtown planning and visioning process identified a number of opportunities that resulted in improvement of the downtown transportation network while simultaneously elevating the economic development climate and improving the urban aesthetic of the historic town square.
Downtown Newark now offers expansive sidewalks, sustainable infrastructure, straightforward two-way traffic patterns and easy-to-navigate mini roundabouts at the four corners of the courthouse square that help to calm traffic.
The project involved extensive public outreach and community engagement, which has contributed to its positive reception and impact. Since the project commenced in 2014 (completing in July, 2017), Newark's urban center has experienced tremendous gains in population, jobs, downtown living, and economic-generating activities—all quality of life advancements positively impacting not only the downtown core, but the entire city and broader metropolitan region. The downtown area is flourishing, with local shops reporting an increase in business and foot traffic.
The award—judged by members from the Great Lakes Region not associated with any of the submitted projects—was evaluated based on the following criteria:
Benefits to the Public
Complexity
Innovation and Unique Features
Aesthetics and Sustainable Features
Accepting the award for the project team (photo above):
From left: Nick Shultz (City of Newark, Ohio); Aaron Domini (OHM Advisors); Aaron Call (OHM Advisors); Angela Fedak (OHM Advisors); Brian Moorehead (City of Newark, Ohio); Jarrett Gary (George J. Igel, Inc.)
About OHM Advisors:
OHM Advisors is the community advancement firm. Founded in 1962, we deliver award-winning work across the architecture, engineering, and planning spheres. With more than 500 employees in offices throughout Ohio, Michigan, and Tennessee, our team partners with leaders at all levels of government, school districts, developers, universities, and private companies to create great places.