OHM Advisors Announces Newest Employee Partners
Image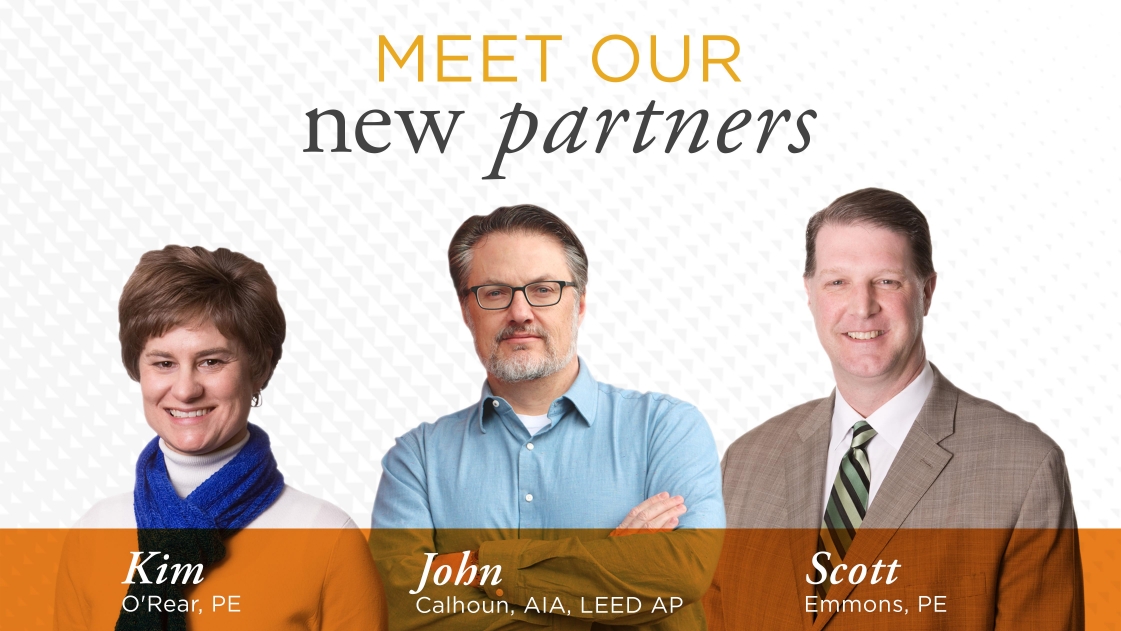 Transportation and Architecture experts join firm's ownership group 
OHM Advisors' board of directors and partners recently elected three new partners to the firm's 58-year-old ownership group: Kim O'Rear, PE; Scott Emmons, PE; and John Calhoun, AIA and LEED AP. The role of the firm partner is to contribute to the firm's leadership and success, elect board members and future new partners and exercise voice in the future direction of the company.
The new partners, nominated from among the firm's many outstanding professionals, represent a range of disciplines, experience levels and specialties. Each is recognized for their contributions within the firm and dedicated service to clients and colleagues.
"Over the course of their careers with OHM Advisors, these driven professionals have consistently demonstrated their commitment to the success of the firm and each of the clients they and their teams serve," said firm President John Hiltz. "Their addition to the partner group enables us to continue our growth strategy moving forward and strengthen our mission of Advancing Communities in 2020 and beyond."
Kim O'Rear, PE | Livonia, MI
Senior Project Manager and Bridge Group Manager, Transportation
Kim O'Rear began her career with OHM Advisors in 2002 as a project engineer in the firm's Transportation group and now fulfills dual management roles for the discipline. She has nearly 25 years of experience in bridge design for repair, rehabilitation and replacement and is an expert at bridge load rating, scoping, inspection and project funding opportunities. She is a business visionary who helps her clients fulfill their project and long-term related goals and a strategic thinker for both the Transportation group and the firm. A civil engineering graduate of Michigan Technological University, Kim is a licensed engineer in Michigan and Ohio, and a 20-plus year Qualified Bridge Inspection Team Leader with the Federal Highway Administration who has shared her vast knowledge at professional forums throughout her career.
John Calhoun, AIA, LEED AP | Nashville, TN
Principal, Architecture
John Calhoun joined OHM Advisors' Architecture group in 2017 as a Principal in the firm's Nashville office, where he has built a 20-plus year career as a respected and trusted professional. John's move to the firm expanded the Nashville office's service offerings, fulfilling a strategic goal for that office since it opened in 2007. His involvement in successful projects like the Moxy Hotel on Lower Broadway, the Bernard Center in Nashville's Arts District and the new corporate headquarters for United Systems have demonstrated his artistic vision for the Nashville community and strategic vision for the growth of OHM Advisors within it. John is a licensed architect in Tennessee and Kentucky. He holds a bachelor's degree in Architecture from the University of Kentucky and a bachelor's degree in Interior Design from Murray State University.
Scott Emmons, PE | Livonia & Detroit, MI
Practice Leader, Transportation
Scott Emmons joined OHM Advisors' Transportation group in 2013 and has more than 20 years of experience in the field of transportation engineering for roadways and highways, down to traffic signal design and expertise in stormwater and drainage system design in roadway improvement projects. Over the past several years, Scott has regularly managed large, high-value projects and worked diligently on strategic growth via new business development for the Transportation group and the firm. He is also a visionary, having managed the Detroit Metro Airport Visioning Study to establish the placemaking policies for the airport as it began significant improvements—some of which have already come to life at Rogell Drive. Scott holds a civil engineering degree from Michigan State University and is a member of multiple professional associations.
About OHM Advisors:
OHM Advisors is the community advancement firm. Founded in 1962, we deliver award-winning work across the architecture, engineering, and planning spheres. With more than 500 employees in offices throughout Ohio, Michigan, and Tennessee, our team partners with leaders at all levels of government, school districts, developers, universities, and private companies to create great places.