OHM Advisors and Daniel Hospitality Group Partner Host Sneak Peek of Moxy Nashville Downtown Hotel
Image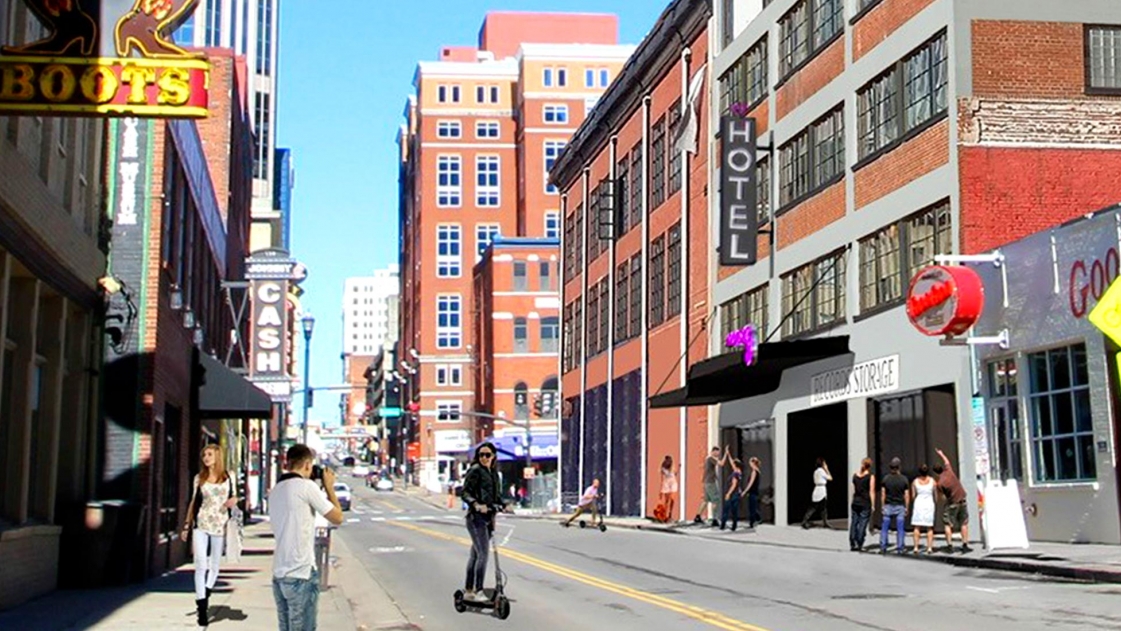 OHM Advisors, in partnership with Daniel Hospitality Group, hosted a sneak preview tour for local dignitaries, media and stakeholders of the soon-to-be-open Moxy Nashville Downtown. Slated to debut in Spring 2019, the hotel is located at 110 3rd Ave. S. – in the heart of Nashville's famed Lower Broadway entertainment strip – at the foot of South Broadway and the Cumberland River.
The OHM Advisors Nashville office serves as lead architect on the project transforming a nondescript office building—which sat empty for years—into a six-story landmark Lower Broadway destination boutique hotel. John Calhoun, AIA, LEED AP, is the lead architect on the transformational project, and Ellis Taylor, as project manager, leads the team's Moxy Nashville Downtown efforts.
"OHM Advisors is proud to serve as the lead architect on this noteworthy project which will be the first and only hotel fronting the legendary Music Row," said Calhoun. "Our team was inspired by the existing architecture and city atmosphere in creating a truly unique boutique hotel that blends the modern without losing the laudable history of the building, or the rich heritage of Nashville."
The February 20, 2019 hard hat tour previewed the hotel's renovation of an existing four-story building along with the addition of a new, two-story rooftop addition. Resulting media coverage by Nashville's Tennessean publication features an online image gallery and an article covering the tour.
The Moxy Nashville Downtown, a 90,677 sq. ft. hotel will feature 168 rooms, including 42 suites, lounge spaces, retail space, a restaurant on the fifth floor with rooftop mezzanine and a wall of windows providing expansive views overlooking Lower Broadway and the Cumberland River. The hotel's first floor Bar Moxy, the brand's signature take on the traditional service desk will greet guests with a complimentary drink token (or locally-roasted Osa coffee) upon check-in.
The Moxy Nashville Downtown project team voluntarily maintained historic guidelines for restoration, with OHM Advisors' team championing preservation efforts working alongside the Metro Historic Zoning Commission to maintain and restore the architectural integrity and significance of the building.
Among the items preserved and repurposed throughout the hotel are many original doors, existing exterior painted signage, existing brick and clay tile, windows repurposed into works of art for guest rooms, original fire and freight elevator doors reused as decorative elements and the original steel grated freight elevator repurposed and redesigned by a local Nashville metal artist into a stage for the hotel lobby.
About Moxy Hotels:
Moxy Hotels is Marriott's newest brand focused on the rapidly growing 3-star tier segment. Its focus is encouraging young and young-at-heart guests, known as "Fun Hunters," to play on with features such as tech-enabled rooms, and a beverage and food strategy that offers 24/7 self-service guest access and a drink upon check in.