New Shareholders Elected to Firm Partnership
Image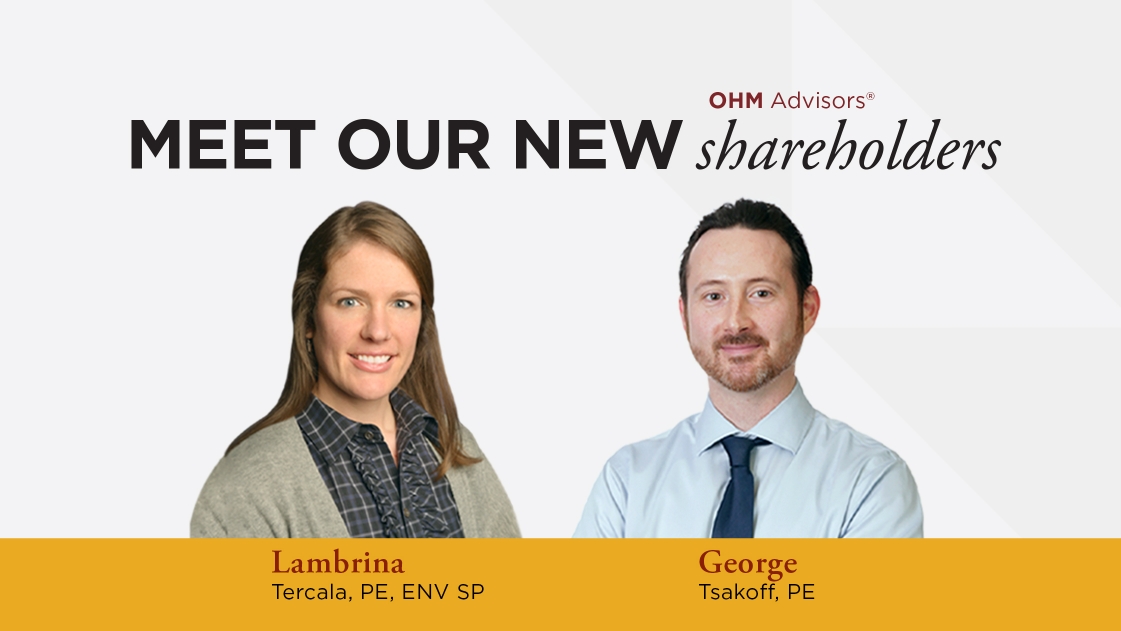 OHM Advisors' board of directors and partners recently elected two new shareholders: Lambrina Tercala PE, EVN SP and George Tsakoff, PE. The partners were recently elected to the 57-year-old firm's ownership group by fellow owners and partners. The announcement was made by OHM Advisors Board Chairman James Houk.
OHM Advisors announces two new employees join firm's group of shareholders
The new shareholders, nominated from among the firm's many outstanding professionals, represent a range of disciplines, experience levels, and specialties. Each is recognized for their contributions within the firm, and dedicated service to clients and colleagues. The role of the shareholder is to contribute to the firm's leadership and success, elect board members and future shareholders, and exercise voice in the future direction of the company.
"The addition of these two professionals to our partner group enables us to continue our aggressive growth strategy going forward," said Houk. "As OHM Advisors continues to expand our national footprint, our shareholders' commitment to our Advancing Communities mission will be instrumental in the company's success in 2019 and beyond."
Lambrina Tercala, PE, EVN SP | Detroit, MI
Project Manager, Environmental & Water Resources Group
Lambrina Tercala started her career with OHM Advisors in 2014 as a wastewater design engineer in the firm's environmental water resources group. She has a deep strategic and business aptitude that lends itself to identifying growth opportunities and improved project performance, such as the Scio odor control project and providing system management of the Downriver Utility Wastewater Authority. Lambrina is a graduate of the University of Michigan with a BSE in Civil and Environmental Studies and is an alumna of the 2018 OHM Grad School program – a focused 12-month curriculum that prepares OHM Advisors' next generation of leaders.
George Tsakoff, PE | Livonia, MI
Senior Project Manager and Principal in Charge 
George Tsakoff joined OHM Advisors' Municipal Group in 2014 and immediately took on responsibilities with several long-standing municipal clients. In four years, he has grown a team within the firm's municipal group that now leads five clients and more than $1M in revenue as a Principal-in-Charge and Senior Project Manager. With more than 20 years of experience, George provides leadership for several major municipal partners in southeast Michigan. He earned a BS in Civil Engineering from Michigan State University and an MS in Civil Engineering from Wayne State University.
There is great deal of excitement about the addition of these individuals to the shareholder group. The firm welcomes their energy, perspectives and dedication to the growth and success of our firm.