Canton and Scio Township Projects Win Multiple ASCE Awards
Image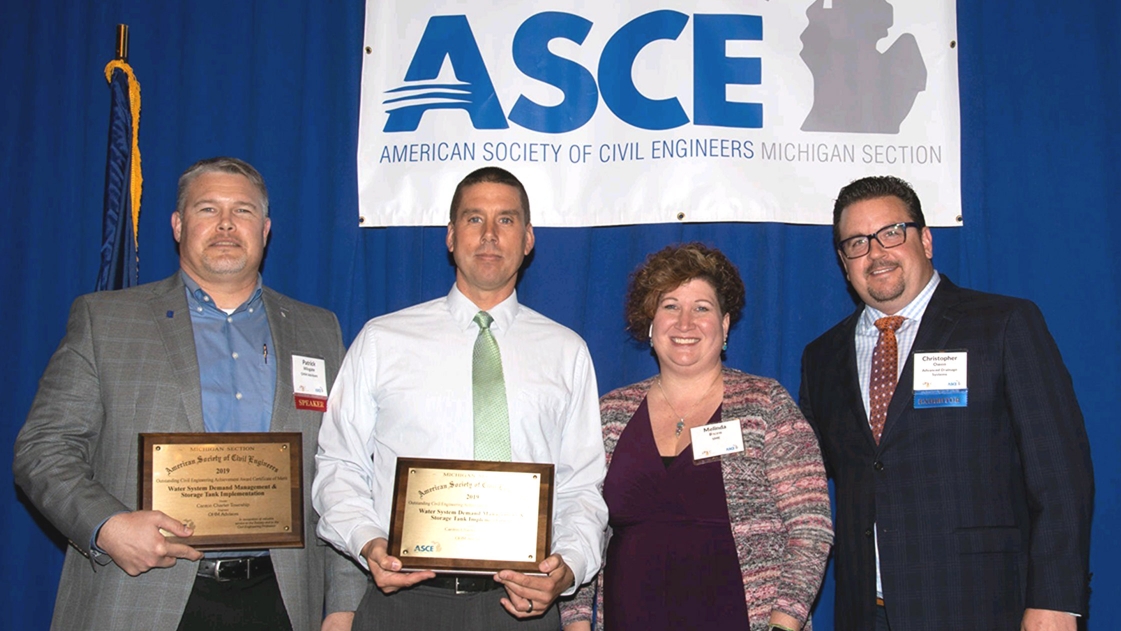 OHM Advisors proudly announces its receipt of three awards from the American Society of Civil Engineers (ASCE) Michigan Section and its Southeastern Michigan Branch for two significant projects from its Environmental and Water Resources Group which underscore the firm's commitment to its mission of Advancing Communities.
On May 11, the Scio Township Jackson Road Pump Station Oxygen Injection System project was presented with ASCE-SE MI's 2019 Quality of Life Project of the Year Award at its annual meeting in Detroit. This award annually recognizes projects that contribute to the well-being of people and communities, demonstrate the use of sustainable design concepts, advocate economic approaches and promote multidisciplinary goals.
The same project won a Quality of Life Merit Award at the state level on May 16, presented by ASCE's Michigan Section at the Michigan Infrastructure Conference awards ceremony in Plymouth. The annual award goes to a project improving the quality of life in a small community or private project, making a positive change in human lives without adversely affecting the surrounding environment.
The project improved the lives of thousands of township residents and those of the neighboring major city who had been experiencing noxious hydrogen sulfide odors emanating from Scio Township's wastewater system. The OHM Advisors design team implemented an oxygen injection solution, an innovative and environmentally-conscious approach to H2S control, to help the Township eliminate the problem and foster a positive relationship with its neighboring community.
Also on May 16, the Canton Township Water System Demand Management & Storage Tank Implementation project received the 2019 ASCE Michigan Section Outstanding Achievement Award Certificate of Merit. The annual award recognizes exemplary achievement in civil engineering while demonstrating innovation and contributing to the well-being of people and communities.
The project reduced water utility costs for Canton Township residents who had been experiencing continually increasing rates from the Township's water supplier. OHM Advisors' multidisciplinary project team designed and implemented a new 2.5-million gallon water storage tank and accompanying booster station, reducing peak hour water demand and allowing the Township to negotiate a lower rate from the water supplier. The new tank and booster station—which are aesthetically and environmentally harmonious with existing land uses—were completed on an accelerated construction schedule and saved the Township $3.3 million in the first year of operation.
About OHM Advisors:
OHM Advisors is the community advancement firm. Founded in 1962, we deliver award-winning work across the architecture, engineering, and planning spheres. With more than 500 employees in offices throughout Ohio, Michigan, and Tennessee, our team partners with leaders at all levels of government, school districts, developers, universities, and private companies to create great places.