America's Water Infrastructure Act: Upcoming Deadlines for Drinking Water Systems
Image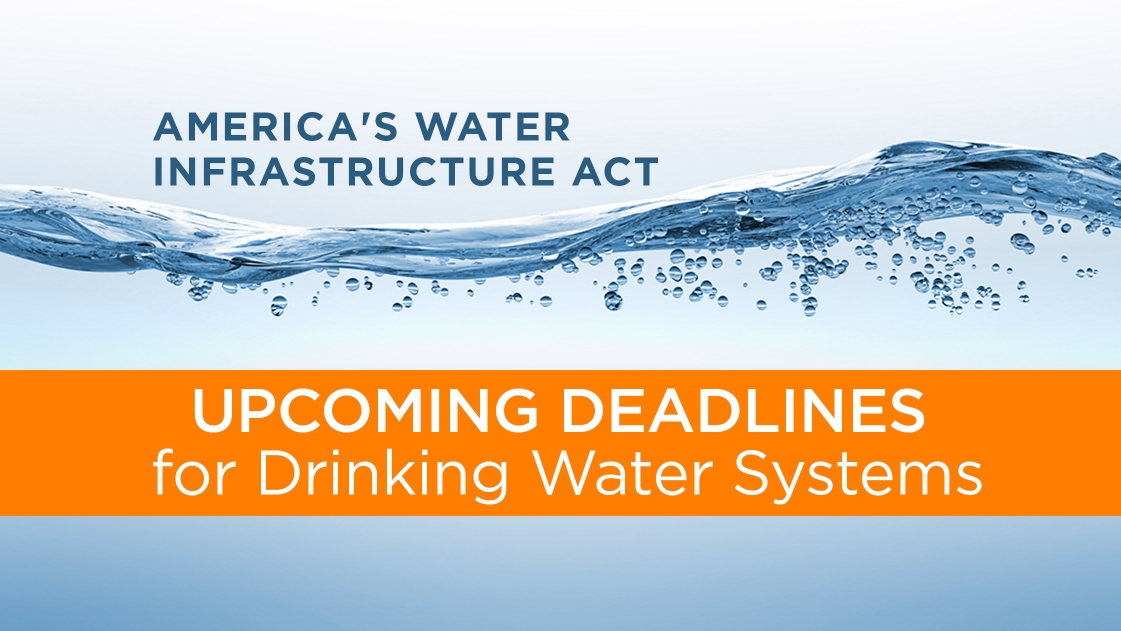 Deadlines for systems serving 50,000 to 99,999 people are approaching
America's Water Infrastructure Act of 2018 (AWIA) requires community drinking water systems that serve more than 3,300 people to complete a Risk and Resilience Assessment (RRA) and develop a corresponding Emergency Response Plan (ERP), and to recertify those documents going forward every five years.
Upcoming deadlines for systems serving 50,000 to 99,999 people are as follows: 
December 31, 2020 for RRA submission, and
June 30, 2021 for the corresponding ERP
Risk and Resilience Assessment
Under AWIA, community water systems must conduct an RRA and submit certification of its completion to the U.S. EPA.
The RRA should include:
the risk to the system from malevolent acts and natural hazards
the resilience of system components—pipes and constructed conveyances, physical barriers, source water, water collection and intake, pretreatment, treatment, storage and distribution facilities, electronic, computer, or other automated systems (including the security of such systems)
monitoring practices
financial infrastructure
use, storage, or handling of various chemicals
operation and maintenance
Optional – capital and operations needs
For more information and guidance on developing the RRA and ERP, visit the U.S. EPA website. 
Emergency Response Plan
The community water system must develop or update an ERP and certify completion to the U.S. EPA no later than six months after RRA certification.
An ERP should include:
strategies and resources to improve resilience, including the physical security and cybersecurity
plans, procedures, and equipment that can be utilized, in the event of a malevolent act or natural hazard that threatens the ability of the community water system to deliver safe drinking water
actions, procedures and equipment which can obviate or significantly lessen the impact of a malevolent act or natural hazard
strategies that can be used to aid in the detection of malevolent acts or natural hazards
For guidance on developing the ERP, visit the U.S. EPA website.
Future Deadlines
RRA and ERP deadlines for systems serving 3,301 to 49,999 people are as follows: 
June 30, 2021 for RRA submission, and
December 31, 2021 for the corresponding ERP
Although community water systems serving less than 3,300 people are not required to conduct RRAs and create ERPs under the federal law, the EPA does include a checklist resource for small systems that may be concerned about risks to their system and want to begin having conversations in order to formulate a plan.
Previous Assessments
The Bioterrorism Act of 2002 required utilities to create and submit a Vulnerability Assessment (VA). The U.S. EPA intends to destroy the VAs previously submitted, but utilities may request that their VAs and certifications be returned in lieu of destruction. This can be done by emailing WSD-Outreach@epa.gov and attaching a document on utility letterhead including the utility name, PWSID, address and point of contact.
Certification and Non-Compliance
Community water systems "self-certify" their Risk and Resilience Assessments—meaning that AWIA does not require approval of the risk assessment by the State or the EPA. The EPA provides three options for submittal of the certification: regular mail, email, and a secure online portal. The EPA-recommended method is via the online submission portal, which will provide drinking water systems with a receipt of submittal. If a utility does not certify that they have complied, the EPA can initiate enforcement action and assess a penalty of up to $25,000 per day for non-compliance.
Still have questions about the 2018 AWIA requirements? Contact our community water systems experts today.