PFAS: Identifying Sources and Managing Emerging Risks
Image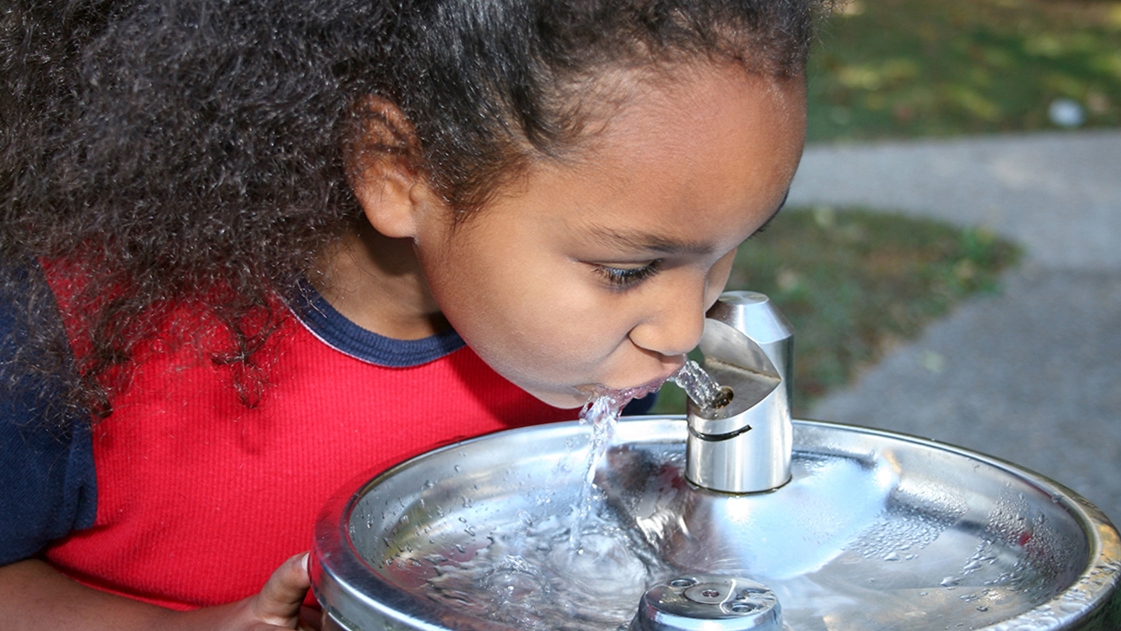 At OHM Advisors, our Environmental and Water Resources group experts work with wastewater and drinking water utilities and system operators to analyze their systems for contaminants and create treatment solutions for the long term. Our specially trained teams are often asked to sample and analyze extensive field data to help communities plan and design treatment strategies that help protect public water supplies and achieve defined business goals.
In the last few years, our team of water quality specialists has been asked about PFAS contaminants in both their drinking water and wastewater systems—and specifically, what they can do about it. Here's what we've learned in working with those communities to address this formidable enemy.
Background
In 2017, the state of Michigan instituted the Michigan PFAS Action Response Team (MPART) initiative to protect the public's water supplies from the effects of PFAS contamination. Per- and polyfluoroalkyl substances—also known as "PFAS" and "PFOS"—are a large group of man-made chemicals that have been used globally in the last century in manufacturing, firefighting, and thousands of household and other consumer products. These soluble chemicals are bio-accumulative and break down slowly, easily transferring through soil to groundwater in the environment.
In recent years, experts have become increasingly concerned by the potential effects of high concentrations of PFAS on human health. MPART began the state's PFAS initiative in 2018, creating industrial pretreatment programs that regulate industrial discharges to wastewater treatment systems and ultimately to surface lakes and streams, then expanded its efforts to community drinking water systems.
This summer, the Michigan Department of Environment, Great Lakes and Energy (EGLE) adopted a set of rules creating some of the nation's most comprehensive regulations limiting PFAS contamination in drinking water. These rules, effective August 3, 2020, provide new standards for public water systems to achieve and require all affected systems to conduct sampling by February 3, 2021. Communities across the state could be required to upgrade drinking water treatment facilities or add filtration systems to community water supply wells. Similar regulations in other states have been passed and more are sure to follow.
Here's a look at how some of our client communities have evaluated the influence of PFAS on their drinking water and wastewater systems and worked with us to explore appropriate management solutions.
PFAS in Drinking Water
A community reached out to our team for help updating its wellhead protection program based on the risk potential PFAS sources presented to 24 drinking water well systems. No PFAS compounds were presently found in any of the well systems, but the community wanted to understand the potential risks presented by this new class of contaminants. Our team identified sources of potential contamination and mapped them relative to the 10-year time of travel to wellhead protection areas. We rated each source based on the risk presented to the well system and developed a monitoring strategy for each well system at risk and a contingency plan if PFAS were detected in any water supply system. 
Of particular concern to the community was a 2017 fire at an auto parts store within the wellhead protection area. Firefighters responding to the emergency had used 185 gallons of firefighting foam containing a mix of Class A and B aqueous film forming foams (AFFF) as well as older, unclassified AFFF to control and extinguish the fire.
Class B AFFF are known to contain PFAS compounds, and the emergency response produced runoff and infiltration to a nearby field close to both a community water supply well and an elementary school with its own drinking water well. Although the school's water supply well had been tested during the statewide survey and found to be free of PFAS contamination, the chemicals could potentially be migrating through the groundwater toward both the school and community water supply wells.
Because of this potential risk, our team recommended a collaboration between the community and the school to monitor the school water supply regularly—both to protect the students and to use the school well as an early warning system that will identify contamination before it reaches the community water supply well. This collaboration saves the community from having to install an additional monitoring well and ensures early detection of any water quality issues in the school well.
See PFAS Drinking Water Rules Quick Reference Guide
PFAS in Wastewater Treatment Systems
Other communities have reached out to us with regard to these same concerns in their wastewater treatment systems since EGLE's creation of the Industrial Pretreatment Program (IPP) PFAS Initiative in 2018. At that time, the state of Michigan sought to address the potential that municipal wastewater treatment plants could be passing elevated levels of PFAS through their systems to lakes and streams.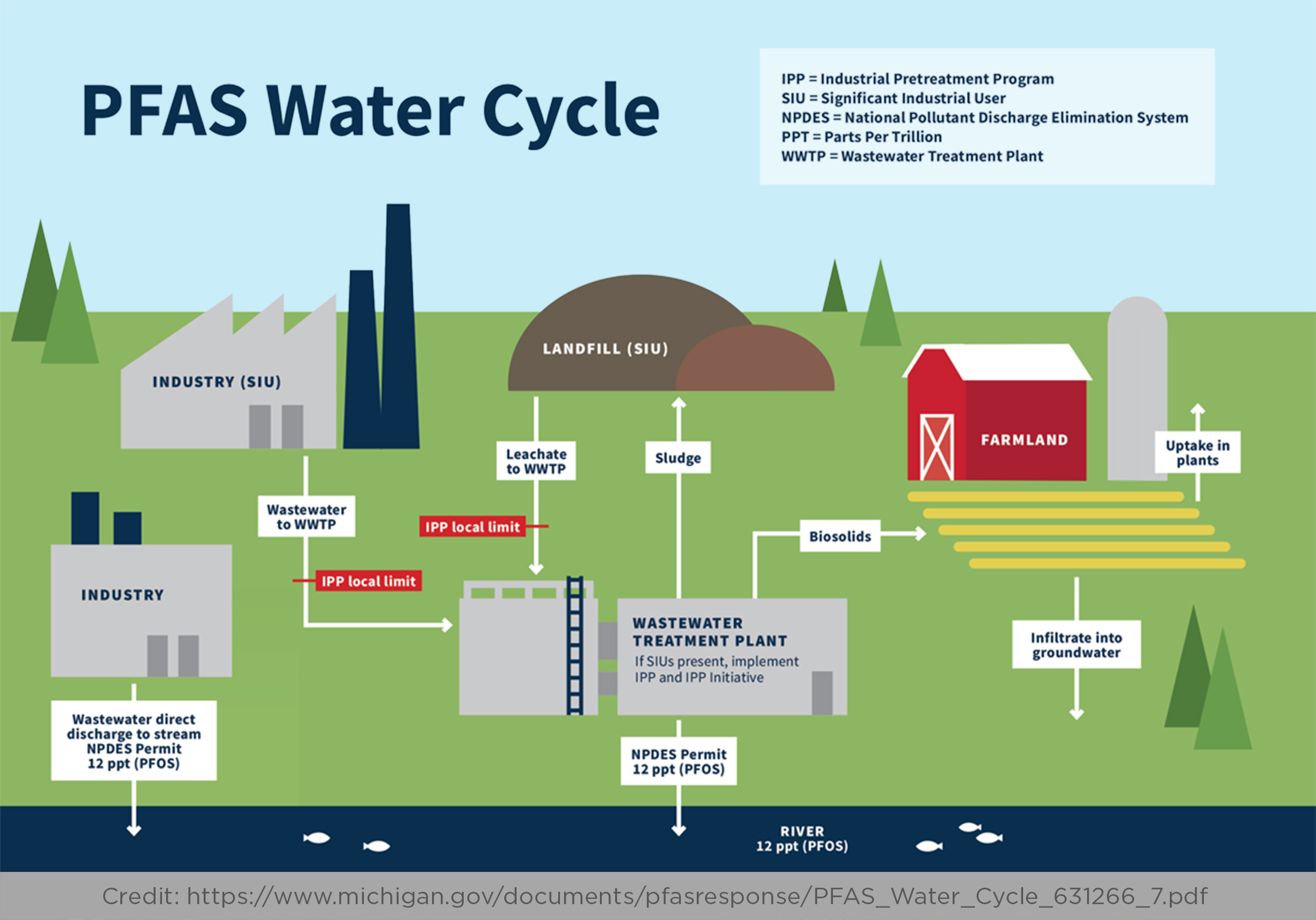 The initiative requires all municipal treatment plants with mandated IPPs to determine if they are passing the contaminants to surface waters and, if so, to reduce and eliminate any sources. 
Under the initiative, wastewater treatment plants were required to:
Identify industrial users to their system that are potential sources of PFAS
Sample industrial dischargers that could be probable sources
Require source reduction at confirmed sources through pollutant minimization plans, equipment/tank change out/clean outs, product replacement, and installation of pretreatment to remove PFAS prior to discharge
Monitor compliance of confirmed sources and ensure that they meet local IPP PFAS requirements
Develop local limits
Submit required reports and monitoring results as required by EGLE
Recently, our team has been working with a Michigan wastewater treatment plant to track PFAS sources. The facility treats 30 million gallons of water per day from the city in which it's located as well as four surrounding communities, six townships and three villages. 
The treatment plant's effluent fluctuates above and below acceptable EGLE discharge limits. When the facility surveyed industrial dischargers, they identified two landfills discharging PFOS to the collection system, However, the mass coming from the landfills was too small to account for the mass observed at the plant, so our team had to review nonresidential customers in the area to identify other potential sources in the collection system. We discovered such a large number of potential sources that it was not feasible to sample each one individually, so we needed to develop another approach.
The county water resource commission maintains flow meters throughout the collection system to support meter-based billing, so our team conducted sampling for PFAS compounds at each of the meters across the system's 42 square miles to identify sub-meter districts receiving the largest PFAS mass. Our team is currently working to rank the sub-meter districts by the greatest mass and will refine the search for potential sources in those sub-meter districts. 
Additional samples are being collected within the facility to identify how physical, chemical and microbial processes might be transforming, absorbing and volatilizing PFAS compounds within the wastewater treatment plant.
We're Here to Partner with Your Community
With Michigan's recent changes in the maximum drinking water contaminant levels for PFAS, the resulting update to its groundwater cleanup standards, and its PFAS initiative for wastewater treatment plants, there is much work to be done by communities to ensure the protection of the public's water supply. If you're concerned about PFAS in your community's systems, OHM Advisors can help with the following:
In the state of Michigan, new funding sources become available through a variety of programs, and our team tracks these funding sources to connect you to available resources.
To learn more about how our experts at OHM Advisors can help you develop solutions to PFAS issues in your community, contact team leader Karlin Danielsen, Ph.D., at (734) 466-4456.