OHM Advisors: Meet our Experts Series
Image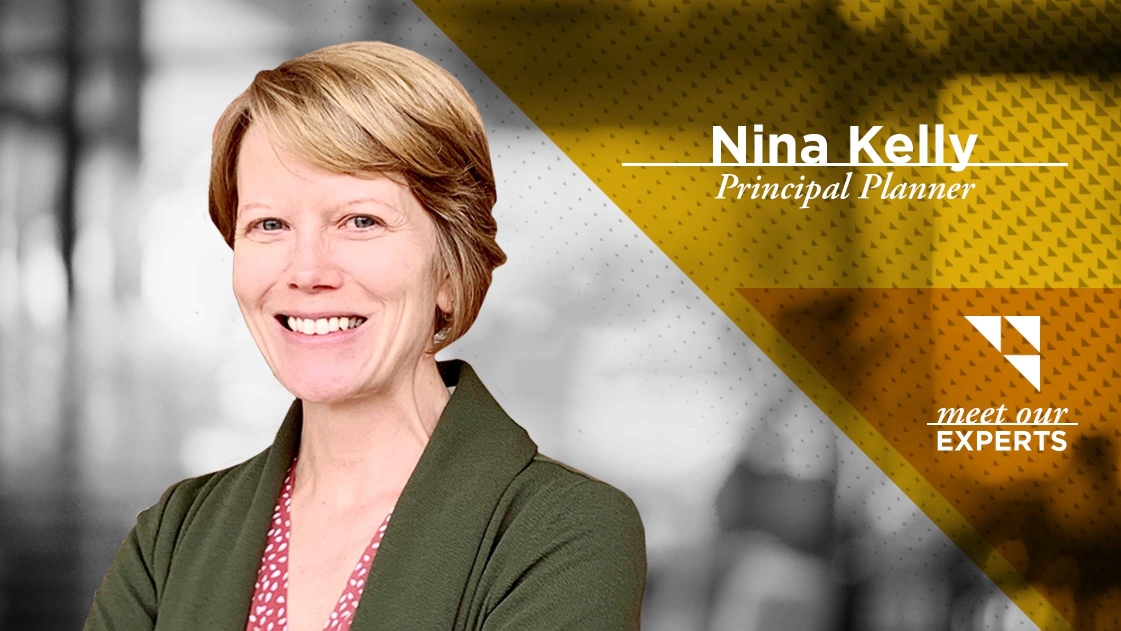 Quick Facts about Nina
Title: Principal
Office Location: Detroit, MI
Years in the Industry: 15+
Most Recent Gig: Chief of Planning & Development, Huron-Clinton Metropolitan Authority (HCMA)
Fun Fact: Would enjoy coffee talk with a famous painter
We checked in with Nina in the Detroit office to chat about her new leadership role with the firm's Planning, Landscape Architecture and Urban Design studio in Michigan, how she chose her career, and what she looks forward to in her industry in the future.
Why Planning? What would you be doing professionally, if not that?
The concept of "place" and how to navigate it has been important to me since I was very young, so I think I was born a planner in some ways. As a kid, I always wanted to know where I was, always asked about street names during car rides. And I was fortunate to grow up in the type of neighborhood where I could safely walk or ride my bike to school with a gaggle of kids, which I did regularly.
As an undergrad, I learned about urban planning in the context of social justice—how zoning and other policies enacted decades ago contributed to the racial and ethnic segregation we still see in communities across the country. It was the combination of my natural curiosity, my childhood experiences and my desire to address social inequality and inequity that led me to pursue my master's in planning. If I hadn't gone in that direction, I probably would've pursued a career in either education or journalism.
List a few adjectives that describe you.
Conscientious, optimistic, and honest. A lot of people see me as a serious person, and that's mostly true, but I also love to laugh and make others laugh. I think my friends and family would say I have a good sense of humor. 
What do you think is the single most important thing (world event, invention, social phenomenon) impacting your industry?
Of course, there's not one single thing, but so much of what I think about as a professional is related to how we are collectively addressing or planning to address the changing climate. Decisions about transportation options, land use, site design and construction, utilities and solid waste management all have implications for public and environmental health.
What are you most looking forward to in the future for your industry?
I'm looking forward to seeing the ways in which planners continue to adapt to the ever-changing world—like the way the global pandemic forced us to reevaluate how we facilitate community engagement while isolating and social distancing. Planners met that challenge creatively and now we have a wider variety of engagement tools in our toolbox.
Tell us about an item on your bucket list.
Most of my bucket list items involve travel and I'd like to find an opportunity to do a volunteer vacation of some sort, where I can contribute my time and skills to benefit the community I'm visiting. When I travel, I like to dodge tourist traps as much as possible and really try to get a sense of what it's like to live in different places.
If you could have coffee with one person of any past or present generation, who would it be, and why?
Frida Kahlo. Her life story is fascinating, and there's of course a tie to Detroit through the industry murals painted by Diego Rivera in the Detroit Institute of Arts.
Finish this sentence, "to me, success is..."
Making good on the promises I make to myself and others.
Read more about Nina and the work she does for OHM Advisors and the Michigan-area Planning, Landscape Architecture and Urban Design studio.