OHM Advisors: Meet our Experts Series
Image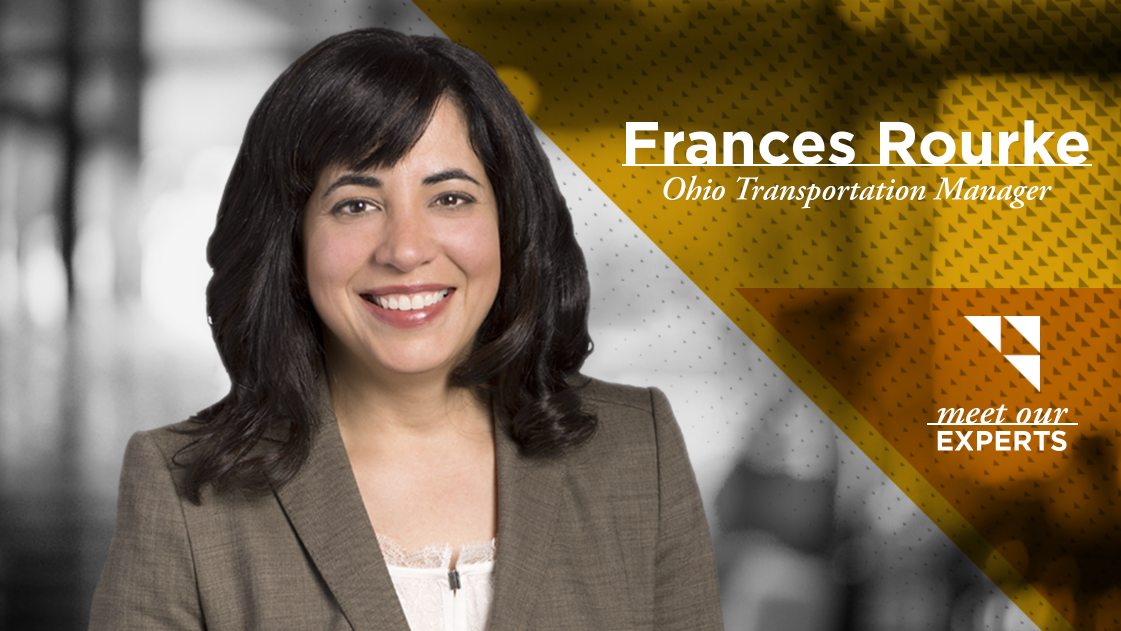 Quick Facts about Frances
Title: Ohio Transportation Manager
Born in: Houston, Texas
Years in the Industry: 25+
Office Digs: Columbus, Ohio
First Job Ever: Grad Student Assistant (Mouse Poop Scooper)
We caught up with Frances during a few minutes of downtime in her schedule as the firm's PIC for our work with the Ohio Department of Transportation and manager of our Ohio transportation engineers, to talk shop and other interesting tidbits.
What's a typical day for you at OHM Advisors?
I'm a strong technical engineer, so I lead ODOT programmatics and oversight and QA/QC of all our Ohio work. I also prepare and implement training, standards and processes for our group of about 15 roadway and bridge engineers working in our Columbus, Cleveland and Akron offices. My career relationships are with the ODOT team, and my counterpart focuses on our private sector side. We work with a third engineer who heads our business development efforts - we all collaborate but each focus on what we do best.
Why engineering?
My father and uncle are engineers, so I was exposed to it. A lot of young kids who aren't exposed to it don't know what it means, or what you would do in an engineering job. I was good at math and science and kind of knew I wanted to go down that path, so I took a drafting class in high school and my teacher encouraged me to continue.
So, tell us about the mouse poop scooper job, since everyone is waiting…
As an Ohio State undergrad, I worked as a research assistant to a grad student who had a U.S. Army research grant to find a way to filter and kill bacteria in water, and my job was to study bacteria from mouse droppings. It sounds worse than it actually was—their poop doesn't smell, and I wore gloves! The worst part was actually a rogue mouse escape through the lab and into a busy classroom. And I chased it!
What project experience will you always remember and why?
Rebuilding I-70 in Englewood near Dayton, Ohio. I was a project manager on my first big project, at a new company with hardly any staff. I was a PM in the weeds designing plans, stressed and working like crazy, doing what I felt was serious damage to my professional reputation because I didn't have the staff to deliver. When the client asked me what was happening and I told them, they actually respected me more. I really needed to hear that they saw what I was doing, saw my skills, and understood.
Speaking of early work experiences, what professional advice would you give your younger self?
Don't wait to be asked. Women tend to question themselves or wait to prepare more for a professional opportunity, where the average man will jump at it even if he knows he's only half qualified. I never said no to opportunities, but I did wait to be asked and I wouldn't if I had it to do over.
If you could have a cup of coffee with anyone, who would it be?
I'd like to have tea with my maternal grandmother. She died young and I never met her. We only have one picture of her, and I didn't see it until I was a young adult. I'd like to know what kind of woman she was.
If you could grant one universal wish to help your clients, what would it be?
Funding. You can have great ideas, but if you don't have funds you can't make it happen.
You've got one day totally free from it all. What will you do?
Spend it at a mountain cabin soaking up the scenery and taking long walks.
Did you do that at all this summer?
My husband and I went to Ireland, and of course the scenery there was incredible. We saw the country's rolling hills and the busy city of Dublin, but the countryside was far and away my favorite.
If you could only ever wear one color, which would it be?
Neutral light browns work for my practical side. But I like to have fun in a classic way, so I'd still add a pop of color. I have a bright orange raincoat that always gets a few style nods.
Read more about Frances and the work she does for OHM Advisors and the transportation engineering industry.